Wednesday, 26 December 2018
Fun end to the week, with a slight upgrade in swells for the weekend
Victoria Forecast by Craig Brokensha (issued Wednesday 26th December)
Best Days: Both coasts tomorrow morning, east of Melbourne early Friday
Recap
Monday's good kick in swell and great conditions into the afternoon dropped back a touch into yesterday morning, but at dawn conditions were good across most spots on the Surf Coast, workable to the east. The variable onshore wind kicked in soon after though, creating bumpy though OK waves for the rest of the day.
Today is a little smaller and weaker with bumpier conditions under a moderate onshore wind. Later this afternoon a new mid-period W/SW swell is expected, discussed in more detail below.
Today's Forecaster Notes are brought to you by Rip Curl
This week and weekend (Dec 27 - 30)
We should see wave heights steadying into this afternoon as a new mid-period W/SW swell fills in, generated by a broad but weak front pushing up towards and then under WA earlier this week.
Size wise the Surf Coast should see fun 2ft+ waves across most spots, with 3ft sets at magnets early, easing back through the afternoon, while the Mornington Peninsula should offer 3-4ft+ sets.
Winds are looking favourable and variable through the morning, tending NE around mid-late morning before sea breezes kick in. With this conditions may be a little morning sick at dawn, but will clean up slowly through the morning before the sea breeze kicks in.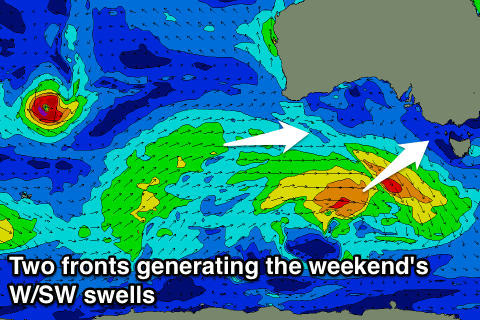 The swell will ease back further Friday from a small 1-2ft on the Surf Coast magnets and 2ft to maybe 3ft on the Mornington Peninsula and winds will do almost a full 360.
An early NE breeze will favour the beaches east of Melbourne, tending NW through the mid-late morning ahead of a shallow SW change into the afternoon. Therefore there should be a window of fun waves on the exposed beaches early-mid morning.
Into the weekend two small pulses of mid-period W/SW and W swell are due, the first for Saturday has been upgraded a touch since Monday.
Currently a weak front under WA is generating a small fetch of strong W/SW winds. This will dip east-southeast through our swell window while strengthening slightly, producing a small W/SW swell for Saturday. The Surf Coast looks to persist at 2ft with 3-4ft sets on the Mornington Peninsula though winds look generally onshore from the W/SW, tending S/SE later. Torquay should see an early W/NW breeze, but worth the drive from Melbourne? Probably not.
Sunday's swell will be produced by a more northerly positioned front pushing under WA's south coast, with a good fetch of strong W/SW winds generated more in our western swell window.
The front will dip east-southeast while approaching us Friday, but be positioned more favourably in our swell window.
The swell is expected to be a touch bigger than Saturday's but be more west in nature, so on the Surf Coast I wouldn't expect too much extra size with small 2ft waves continuing across most breaks, likely up to 3ft on the sets at 13th Beach. The Mornington Peninsula should see surf more to 3-4ft+.
Winds on Sunday are a little unclear at this stage but may be variable early before tending SE, but we'll have a closer look at this Friday.
Beyond this another mid-latitude front looks to generate another small W/SW swell for Monday followed by a possibly bigger swell for Tuesday, but more on this Friday.