Friday, 20 July 2018
Great weekend, more west swell next week
Victoria Forecast by Craig Brokensha (issued Friday 20th July)
Best Days: Surf Coast Saturday, beaches Sunday and Monday, Surf Coast Tuesday and Wednesday morning
Recap
Later Wednesday our first pulse of large long-period W/SW groundswell provided great though inconsistent 8ft sets across the Surf Coast reefs, while the secondary larger reinforcing pulse due yesterday came in mostly under expectations (especially on the Surf Coast).
The Mornington Peninsula was maxing and clean with reports at some locations of the biggest cleanest waves witnessed in a long long time. Magnets on the Surf Coast varied from clean 8ft sets at 13th Beach, with surf more around 6ft at Bells and Winki, smaller in more protected spots as expected. Morning N'ly devil winds shifted back offshore for the reefs into the afternoon creating great conditions.
This morning we're in betweens well pulses and a W/NW breeze is favouring the Surf Coast reefs, but into the afternoon we should see a new reinforcing W/SW groundswell pulsing to 6-8ft on the Surf Coast reefs by dark. Winds will shift around to the W and the W/SW at some stage through the afternoon, creating bumpy conditions late.
Today's Forecaster Notes are brought to you by Rip Curl
This weekend and next week (Jul 21 - 27)
Want to receive an email when these Forecaster Notes are updated? Then log in here and update your preferences.
Yesterday's large reinforcing pulse of long-period W/SW groundswell was generated by a severe low forming under WA, and tracking east and then east-southeast towards Tassie.
On the backside of this low though, we've seen a persistent fetch of W/SW gales being aimed towards us, with an even better tail fetch of severe-gale W/SW winds projecting nicely towards us through yesterday.
This system is now weakening while pushing up towards Bass Strait, bringing this afternoon's change and generating a weaker fetch of SW winds in our south-western swell window.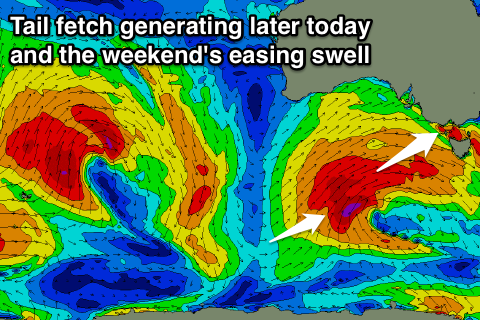 We should see a fresh pulse of large long-period W/SW groundswell kicking later today and reaching 6-8ft at swell magnets on the Surf Coast but with that W/SW change.
The swell is expected to peak overnight before easing through tomorrow while swinging slightly more SW in direction.
The Surf Coast magnets should ease from the 6ft range tomorrow morning, down to 4ft into the afternoon and further from 3ft Sunday.
The Mornington Peninsula looks to be around 8ft tomorrow morning, easing back from 4-5ft+ Sunday morning.
Conditions look great all day for protected spots tomorrow with a moderate to fresh W/NW'ly, while on Sunday we'll see more options opening up through the day across the state as an approaching front swings winds from the N/NW at dawn to N/NE through the afternoon (likely N/NE most of the day east of Melbourne).
Gusty N-N/NE winds look to persist through Monday favouring swell magnets east of Melbourne as the swell drops further, but steadies with a small mid-period W/SW swell.
This will be generated by a pre-frontal fetch of easing W/NW gales ahead of a much more severe storm discussed in more detail below, but size wise we should see sets hanging in at 3ft+ on the Mornington Peninsula and 1-2ft on the Surf Coast.
Of greater importance is a moderate to large long-period W/SW groundswell due to build through Tuesday and peak Wednesday across our region.
One of the strongest polar frontal progressions of the year will developing south-west of WA, under the influence of a strong protruding node of the Long Wave Trough in the south-east Indian Ocean.
The winter calibre frontal progression will occur in our far western swell window, producing the largest swell of the season for Indo, but for our region, inconsistent and much smaller long-period W/SW groundswell.
The swell is due to build Tuesday and peak through Wednesday, and at the same time the remnants of the progression are due to move in from the west, producing fetches of strong to gale-force W/SW winds through our western swell window.
This will add some more consistent mid-period W/SW swell into the mix Wednesday more likely than Tuesday.
So looking at the expected sizes, and the models are incorrectly combining swells again Tuesday and Wednesday. The Surf Coast may see inconsistent 2-3ft sets Tuesday morning at magnets, building to 3-4ft later in the day (6ft+ Mornington Peninsula) along with gusty W/NW-NW winds.
Wednesday will see the groundswell and mid-period W/SW swells peaking, with 3-5ft waves due on the Surf Coast and 6-8ft sets to the east under W/NW tending W/SW winds.
Into the end of the week we'll see the surf easing as winds become favourable for locations east of Melbourne under a N/NE breeze, but more on this Monday. Have a great weekend!