Monday, 23 April 2018
Average forecast period
Victoria Forecast by Craig Brokensha (issued Monday 23rd April)
Best Days: East of Melbourne tomorrow morning, possibly early Friday Surf Coast, possible windows of light winds each morning on the weekend
Recap
Not much in the way of surf across any coast over the weekend with small to tiny waves Saturday and then a slow increase in long-range and very inconsistent W/SW groundswell yesterday.
This swell has peaked today in the 2ft range on the Surf Coast and a much better 3-4ft on the Mornington Peninsula with favourable winds.
Today's Forecaster Notes are brought to you by Rip Curl
This week and weekend (Apr 24 - 27)
As touched on in Friday's update, there's nothing of significance due for our region until later in the week.
We'll see today's infrequent W/SW groundswell dropping through tomorrow from 1-1.5ft (max) on the Surf Coast and an inconsistent 3ft on the sets on the Mornington Peninsula. A N'ly breeze should hold most of the morning east of Melbourne, creating good conditions, with N/NW winds on the Surf Coast, tending NW ahead of a mid-afternoon W/SW change across all spots.
Wednesday looks clean across both regions again with variable breezes through the morning but hardly any swell.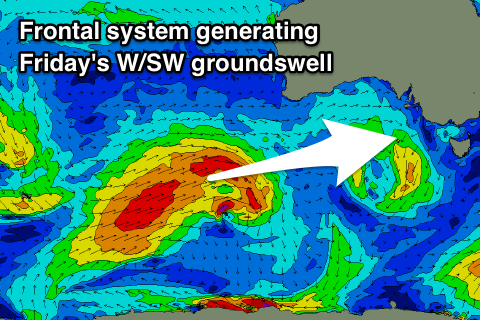 A small spike in SW swell is due late in the day but more so Thursday morning, produce by a short-burst of strong W/SW winds through our swell window tomorrow as a mid-latitude low dips south-east.
We may see the Surf Coast kicking to 1-2ft late Wednesday but with onshore winds, and 2-3ft on the Mornington Peninsula, coming in at a similar size Thursday morning.
Into Thursday afternoon we'll start to see some better W/SW energy building, generated by a relatively weak but good fetch of strong W/SW winds projected south of the Bight and towards us tomorrow evening and Wednesday.
This front will break off a stronger polar frontal progression that's currently south-west, with an average increase in mid-period W/SW swell due Thursday afternoon ahead of some better W/SW groundswell on Friday.
We may even see an additional SW swell from a small embedded low racing in on the back of the weak W/SW fetch Thursday.
Size wise the Surf Coast is expected to build 2ft+ later Thursday and 4ft on the Mornington Peninsula but with SW winds (likely W/NW early on the Surf Coast), with Friday coming in at 3-4ft and 6ft respectively.
Winds will remain an issue though with S/SW tending S/SE breezes across most locations Friday and only an outside chance of an early W/NW'ly around Torquay.
We'll see the swells ease off into Saturday and a high looks to move in from the west, creating very light SE breezes. We'll have a closer look at this Wednesday to see if there's any chance of local offshores to kick in.
Into Sunday we may see SE winds lingering as we sit between a high to our south-west and low over New Zealand.
A new W/SW groundswell is due produced by a strong but stalling storm south-southwest of WA later this week.
We'll see a fetch of gale to severe-gale W/SW winds generated in our western swell window, with a small initial increase in W/SW swell through Sunday ahead of the swell proper Monday.
Size wise we're looking at 3-5ft waves on the Surf Coast Monday with 6ft+ sets to the east but with easterly winds. More on this Wednesday.