Fun weekend, large powerful swell next week with north-east winds
Victoria Forecast by Craig Brokensha (issued Friday 14th April)
Best Days: Both coasts Saturday, Sunday morning Surf Coast, Monday and Tuesday mornings both coasts. east of Melbourne Wednesday, Thursday
Recap
After a strong pulse of long-period and mid-range SW groundswell energy Wednesday afternoon, Thursday saw a lot less size, coming in at 3ft on the sets across the Surf Coast and 4-5ft on the Mornington Peninsula.
Conditions were a little disappointing on the Surf Coast with a variable wind from the north failing to iron out some small easterly windswell bumps, remaining light before sea breezes kicked in. The beaches east of Melbourne however offered excellent waves all day with winds remaining offshore into the afternoon.
This morning the surf was smaller and clean early on the Surf Coast, but an onshore change has since moved through.
This weekend and next week (Apr 15 - 21)
This afternoon some new W/SW groundswell is expected across the state, topped by a larger pulse through tomorrow morning.
The satellite observations of the stronger fetch generating this swell aren't too amazing, and the period front pushing into the coast is a touch less than forecast Wednesday.
Still we should see good 3-4ft sets developing through Saturday morning on the Surf Coast with 5ft bombs at magnets, and 5-6ft+ waves on the Mornington Peninsula.
A variable wind should create clean conditions across both coasts before weak sea breezes develop.
A temporary drop in surf is due into Sunday morning ahead of a new inconsistent but strong long-period SW groundswell into the afternoon.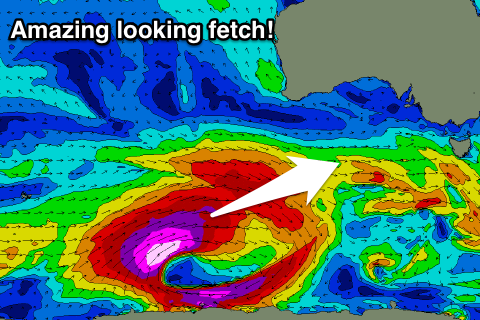 This was generated the last two days by a vigorous polar low and should build back to 3-5ft across swell magnets on the Surf Coast later Saturday with 5-6ft+ waves on the Mornington Peninsula
A morning NW breeze will favour the Surf Coast Sunday morning ahead of a shallow W/SW change around midday/afternoon, not doing too much damage. Locations east of Melbourne are likely to see an early N/NW breeze.
Variable winds are expected again into Monday morning, likely tending locally offshore and Sunday's swell should be easing back from 3-4ft and 5-6ft respectively.
The swell shouldn't ease too much owing to a weak polar front moving through our swell window over the coming days, generating a reinforcing W/SW swell through the day.
Now, we're probably looking at another low point in swell activity Tuesday morning with light variable winds, but from the afternoon the first hint of W/SW groundswell from a vigorous polar frontal progression this evening.
What we'll see is a gale to severe-gale fetch of pre-frontal W/NW winds projected through our western swell window, generating a moderate to large sized W/SW groundswell for later Tuesday. The Surf Coast is expected to kick strongly through the afternoon, reaching 3-5ft by dark with 6ft+ sets on the Mornington Peninsula. This will be with afternoon sea breezes.
Of greater importance is the core of the polar low, generating storm-force W/SW winds over an active sea state and more in our south-west swell window.
This will produce a large long-period SW groundswell for Wednesday peaking through the morning to an easy 6ft on the Surf Coast (bigger bombs at swell magnets) and 8-10ft on the Mornington Peninsula.
The wind outlook has changed though due to a strong and small ridge of high pressure sitting to our east, resulting in a light NE wind through the morning and SE sea breezes.
With the large swell for the open beaches, surfing options will be limited.
Thursday will also see N/NE winds as the SW groundswell eases back from 3-5ft on the Surf Coast and 6ft+ on the Mornington Peninsula.
There does't look to be a shift in winds back to the NW at all now into the end of the week, with persistent NE breezes on the cards as the swell continues to ease.
Longer term some moderate W/SW groundswell is due over the weekend, but more on this Monday. Have a great weekend!