Friday, 1 April 2016
Large Sunday with decent winds, cleaner and easing into next week
Victoria Forecast by Craig Brokensha (issued Friday 1st April)
Best Days: Early Saturday Surf Coast, Sunday Surf Coast, Monday both coasts, Tuesday both coasts
Recap
Fun clean 2ft waves across the Surf Coast yesterday morning before kicking through the afternoon with the arrival of a new SW groundswell providing 3ft sets. Conditions were clean all day with offshore tending variable winds. Portsea was the pick on the Mornington Peninsula, handling the wind the best with fun sets.
Later in the day the first signs of strong long-period SW groundswell were seen across the coast, with the swell filling in strongly overnight and peaking just before day break this morning. Straight clean pumping 3-5ft waves were seen on the Surf Coast with 6ft sets on the Mornington Peninsula with perfect offshore winds.
Cape Sorell has already dropped away, and we'll see the swell follow this trend through the day as winds hold from the N/NW-NW.
This weekend and next week (Apr 2 – 9)
Today's strong long-period SW groundswell will continue to ease into tomorrow, only to be replaced by building levels of W/SW groundswell.
A couple of large swells are due to fill in through the weekend, generated by a flurry of strong and back to back frontal activity under the country owing to a strong node of the Long Wave Trough.
A mix of W/SW groundswells will build through tomorrow, from 3-5ft across exposed breaks like Bells and 13th Beach tomorrow morning (smaller elsewhere) building slowly through the day and reaching 4-6ft later in the day. The Mornington Peninsula should build from 6ft to 6-8ft through the afternoon, but conditions will be average with a fresh and gusty W/SW wind, (W'ly early around Torquay).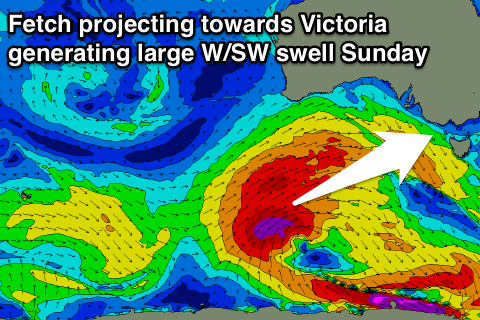 Of greater importance is the largest pulse of swell due Sunday morning, generated as a fetch of severe-gale W/SW winds are projected ideally up towards Victoria over an already active sea state.
The swell is due to peak Sunday morning with large 6ft+ sets due on the Surf Coast and 8ft+ waves on the Mornington Peninsula.
Winds will be best for the Torquay region with an early light W/NW breeze, swinging onshore late morning.
The swell should ease back through the day and the following frontal activity doesn't look to be as strong or favourable.
This will result in the surf continuing to ease back slowly through Monday from 3-4ft+ on the Surf Coast and 6ft on the Mornington Peninsula. Conditions should be clean across both regions with a light variable breeze, likely tending light offshore before sea breezes kick in early afternoon.
Tuesday should be straighter and cleaner with a bit more strength in the offshore from the N'th, tending variable into the afternoon.
Longer term some small to moderate W/SW pulses are due into Wednesday and Thursday with average winds, but we may see a better SW groundswell for next Saturday. More on this Monday. Have a great weekend!