Monday, 21 March 2016
Great outlook for the Rip Curl Pro
Victoria Forecast by Craig Brokensha (issued Monday 21st March)
Best Days: Tuesday east of Melbourne (Surf Coast from mid-late morning), both coasts Wednesday, Friday and Saturday mornings Surf Coast, both coasts Sunday, Surf Coast Monday morning
Recap
The strong onshore change Friday whipped up a solid increase in short-range windswell into the afternoon, and with winds from the W/SW, conditions were workable on the protected reefs and beaches for keen surfers on the Surf Coast.
This swell eased back rapidly overnight, with two pulses of SW groundswell filling in through the day, offering 3ft sets across the Surf Coast (bigger at 13th Beach) with an early light W'ly and poor onshore conditions to the east.
Sunday was much better east of Melbourne as winds tended more E'ly along with a solid 4-6ft of easing SW groundswell, while 13th Beach and Fairhaven were the pick on the Surf Coast with easing 3ft+ sets.
Today the surf is smaller and E/SE winds are creating poor conditions on the Surf Coast, and average waves to the east.
This week and weekend (Mar 22 - 27)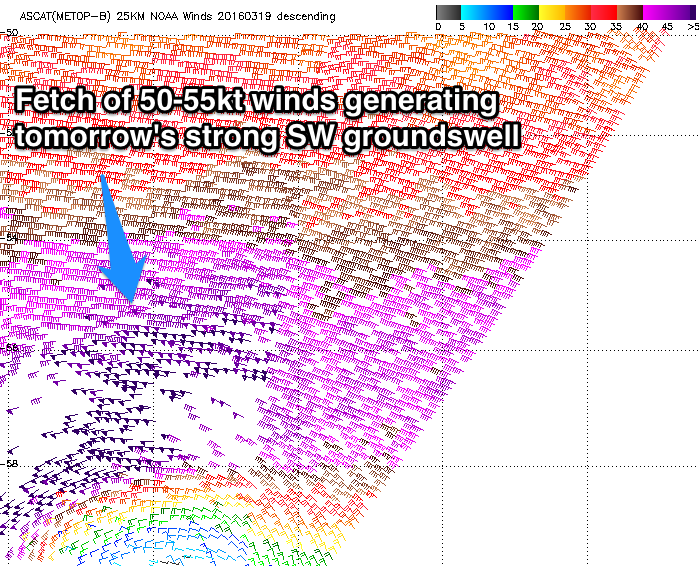 There's been no real change to the strong long-period SW groundswell due tomorrow morning, with satellite observations picking up 50kt+ core wind speeds around a vigorous polar low over the weekend.
This swell should peak through the morning with solid 3-4ft sets due across most breaks, with bigger bombs at swell magnets like Bells and 13th Beach. The Mornington Peninsula should see 6ft to occasionally 8ft sets across exposed beaches.
Conditions will be best east of Melbourne with a moderate but easing E/NE tending N/NE wind ahead of weak afternoon sea breezes.
The Surf Coast should improve through the day though with that early E/NE'ly due to tend variable and possibly light N'ly ahead of afternoon sea breezes.

Wednesday looks super fun across both coasts with local offshores ahead of an afternoon S/SW change. The Surf Coast should ease back from the 3ft range on the sets, with 4-5ft+ waves on the Mornington Peninsula.
A temporary low point in swell activity is due Thursday morning, ahead of a series of strong SW groundswells from the afternoon, through the weekend.
These swells will be produced by a flurry of strong back to back frontal activity under the influence of a weak node of the Long Wave Trough.
An initial and relatively weak but strengthening front moving in from the west will create an active sea state for a stronger system to piggy-back over the top of. This secondary system will produce a fetch of severe-gale W/SW winds, possibly reaching the storm-force range at its core, generating a moderate sized SW groundswell for Thursday afternoon, holding Friday morning.
The Surf Coast should build to a good 3-4ft into the afternoon, with bigger bombs at Bells/Winki, holding a similar size Friday morning. The Mornington Peninsula is due to reach 6ft+.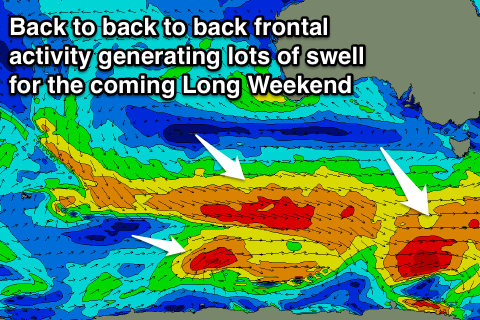 The surf shouldn't ease too much through the day, ahead of another strong SW groundswell pulse for Saturday.
This will be generated by a broad and elongated fetch of gale to severe-gale W/NW winds moving in over the back of the active sea state generating Thursday/Friday's swell, followed by a stronger post-frontal fetch of severe-gale SW winds.
A long-period and strong SW groundswell should be generating, peaking Saturday afternoon, easing Sunday.
Size wise, the Surf Coast should build to 5-6ft through Saturday, with the Mornington Peninsula in the 6-8ft range (Saturday afternoon). A slow easing trend is then expected Sunday and further Monday.
The Surf Coast will be the pick Friday and Saturday with morning NW offshores, swinging SW through the afternoons, with Sunday looking great across both coasts with a N/NE tending N/NW breeze ahead of an approaching front.
As the swells ease Monday, early W/NW winds ahead of a SW change will favour the Surf Coast again.
Longer term there's signs of a large groundswell event next week, but more on this Wednesday.