Friday, 12 February 2016
Good early Saturday morning, then Surf Coast Monday morning
Victoria Forecast by Craig Brokensha (issued Friday 12th February)
Best Days: Early Saturday morning both coasts, Monday morning Surf Coast
Recap
Wednesday's kick in swell held well into yesterday morning with more than workable conditions under light onshore winds.

Today we were in betweens wells with a moderate onshore breeze at dawn which eased back through the morning creating OK conditions for keen surfers across exposed breaks.
A new SW groundswell is due to build through the afternoon although with fresher onshores, and the Cape Sorell buoy observations are in line with this.
This weekend and next week (Feb 13 - 19)
This afternoon's increase in SW groundswell is due to peak overnight, but tomorrow morning will still be fun with easing 2-3ft sets on the Surf Coast and 4-5ft waves on the Mornington Peninsula.

Update: The change looks to be earlier now, with dawn N'ly winds, shifting NW by 8am and then onshore from the W/SW late morning.
Therefore go the early on the Mornington Peninsula, while you'll have more time up your sleeve on the Surf Coast.
Saturday afternoon's onshore change will be linked to an approaching frontal system on the back of a deepening low pressure system to our south-west today.
The deepening low has fizzled a touch further since the start of the week with a new SW swell Sunday due to only reach 3ft or so later in the day on the Surf Coast and 4-5ft+ on the Mornington Peninsula, much smaller early.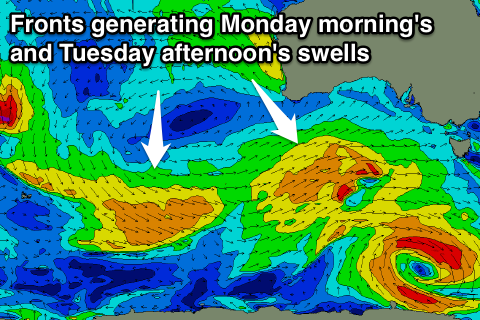 Winds will only be favourable for the Surf Coast Sunday with an early W/NW'ly ahead of a gusty SW change.
Of greater importance is the secondary front firing up behind the low, with a healthy fetch of strong W/SW winds due to be projected ideally through our swell window and over an active sea state.
A good pulse of W/SW groundswell should result for Monday, peaking to 3-4ft on the Surf Coast and 5-6ft+ on the Mornington Peninsula, easing later in the day.
Conditions are looking good for the Surf Coast through the morning with a light W/NW'ly tending SW through the day. Remaining locations will be bumpy with a SW breeze all day.
A temporary low point in swell is due overnight Monday, but another similarly tracking and strong front moving in early next week should produce a new pulse of SW swell for Tuesday afternoon, back to 3-4ft and 5-6ft+ respectively.
Winds however are due to become poor as the front generating this swell forms into a deepening low pressure system below Tassie, bringing onshore S/SW winds Tuesday, S'ly Wednesday and then S/SE into Thursday and Friday as it stalls in the Tasman Sea.
This will also spoil further pulses of SW swell, but more on this Monday. Have a great weekend!