Monday, 9 March 2015
Plenty of swell with favourable winds until Thursday
Victoria Forecast by Craig Brokensha (issued Monday 9th March)
Best Days: Tuesday both coasts with winds tending variable, Wednesday Surf Coast
Recap
Great weekend of surf west of Melbourne with the swell dropping from 3-4ft under offshore winds on the Surf Coast that flirted from the W/SW through the mid-afternoon but stayed favourable for the protected reefs.
Sunday was smaller and clean again for most of the day ahead of a late S'ly sea breeze. The Mornington Peninsula was bumpy and average all weekend.
Today a new SW groundswell has filled in with good 3-4ft waves across the Surf Coast and larger surf to the east, but a freshening NW tending W/NW breeze is again favouring the former, but a SW change is due through the day.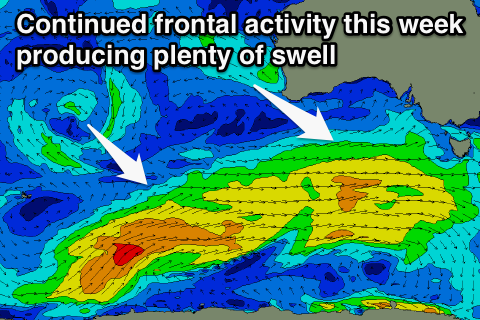 This week (Mar 10 -13)
Today's increase in SW groundswell was generated by an initial strong polar front on Friday, but a secondary better system since developed and pushed over the already active sea state, generating a larger SW groundswell pulse for late today and tomorrow.
We're looking at good 3-5ft waves on the Surf Coast and 8ft sets across the Mornington Peninsula with light winds from the W/SW, tending variable across both coasts through the mid-late morning. The Torquay region should see a light W/NW'ly develop under this scenario, while the afternoon should continue to see light winds, creating a full fun day of waves west of Melbourne.
For the rest of the week we'll continue to see moderate amounts of SW swell impacting the Surf Coast with larger surf to the east, owing to continued slow moving frontal activity under the country until around Thursday afternoon.
With this we'll see plenty of size continuing through Wednesday with 3-4ft sets due across the Surf Coast and 6-8ft waves on the Mornington Peninsula, dropping back a touch Thursday but steadying Friday.
Winds look great for the Surf Coast Wednesday with a NW offshore ahead of a shift to the W/SW early-mid afternoon. Thursday is average with a SW change pushing through just after dawn, with only a short-lived W'ly possible at dawn around Torquay. Friday will see poor S/SE winds limiting surfing options severely.
This weekend onwards (Mar 14 onwards)
We'll see the surf slowly tail away through the weekend and winds look dicey with a change expected to push through Saturday morning with lingering onshores into Sunday.
Besides a small increase in SW swell Monday there's nothing to significant on the cards for next week, but there's plenty to get stuck into this week.