Friday, 27 February 2015
Exposed spots Saturday, bigger swells from Wednesday
Victoria Forecast by Craig Brokensha (issued Friday 27th February)
Best Days: Saturday at exposed spots, Monday morning both coasts on the beaches, Wednesday Surf Coast, early Thursday Surf Coast
Recap
Early W/NW winds favoured the Surf Coast yesterday morning with a fun easing 2-3ft of swell, while the Mornington Peninsula was bumpy and average. An onshore change moved through mid-late morning.
Today was looking dicey with a tricky wind forecast that was either going to be moderate onshore or light and variable.
Well the Surf Coast saw these variable winds and clean fun 2ft waves, while the Mornington Peninsula saw the onshore and bumpy 3-4ft sets.
This weekend (Feb 28 – Mar 1)
Exposed breaks will be the pick tomorrow morning with an easing mix of swells (one being a very inconsistent small long-range SW groundswell) and offshore N/NE winds through the morning. Winds should persist from the N'th into the afternoon and evening ahead of a late onshore change around dark. The Surf Coast should see N'ly tending N/NW winds but the swell will be small to tiny.
Size wise the Mornington Peninsula should ease from an inconsistent 3ft with 1ft+ sets on the Surf Coast.
Sunday will be poor as onshore winds persist from the SW through the morning across all locations, kicking up a weak windswell through the day.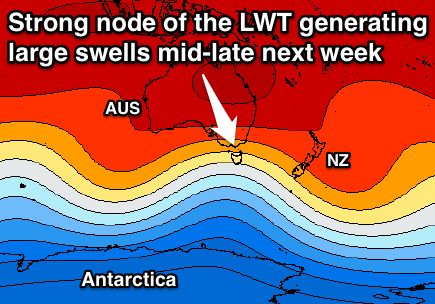 Next week onwards (Mar 2 onwards)
Monday morning should be fun across locations east of Melbourne with an easing weak SW windswell as winds tend NE through the morning. The swell will feel weak, but should ease from a peaky 3-4ft or so. The Surf Coast should see easing 2ft sets.
Tuesday will be worth a miss as the swell bottoms out and early light winds give into a SW change.
Now, our increased swell activity owing to a strengthening node (peak) of the Long Wave Trough moving across us early next week is still on track with a series of stronger and stronger polar fronts expected to fire up in our swell window, with an initial pulse of SW groundswell due through Tuesday afternoon, peaking Wednesday morning ahead of a larger increase later Wednesday, peaking Thursday.
Size wise we're looking at an increase to 3ft and 6ft respectively Tuesday evening from the SW, peaking around 3-4ft and 6-8ft Wednesday morning. The larger pulse should then see the Surf Coast reaching 4-5ft by dark with 8ft+ sets on the Mornington Peninsula ahead of a peak Thursday in the 5-6ft range and 8-10ft range respectively.
Winds as touched on above will be onshore Tuesday and from the SW, but Wednesday morning should see NW tending W/NW breezes, favouring the Surf Coast, with an early W/NW'ly likely Thursday morning ahead of a shift to the SW mid-morning.
We'll have a closer look at this on Monday though, so in the meantime, have a great weekend!