Friday, 16 January 2015
Pumping weekend, good on the beaches Tuesday
Victoria Forecast by Craig Brokensha (issued Friday 16th January)
Best Days: Saturday morning/early afternoon Surf Coast, Sunday morning Surf Coast, Tuesday east of Melbourne, Thursday morning on the Surf Coast
Recap
The Torquay region offered the best waves yesterday morning with an early W/NW breeze and 2ft or so of short-range swell. Onshores kicked in from mid-morning though, creating poor conditions into the afternoon.
Today conditions were clean as a whistle across the Surf Coast, but the swell small to tiny and in the 1ft to occasionally 2ft range.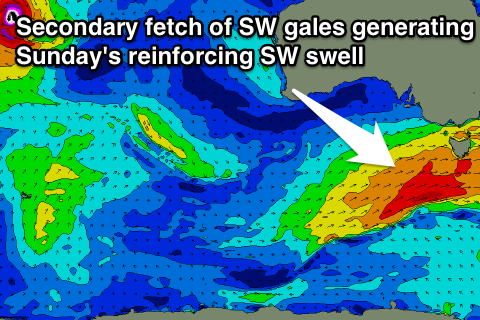 This weekend and next week (Jan 17 - 23)
Our strong pulses of W/SW and SW groundswell are still on track for the weekend, with a vigorous polar front being projected up towards us under the influence of a strong node (peak) of the Long Wave Trough.
A fetch of gale to severe-gale W/SW winds have and are still being generated in our western swell window, producing a moderate-large W/SW swell for tomorrow, peaking through the middle of the day/afternoon.
Size wise we should see 4-5ft waves across the Surf Coast with the odd bigger set likely at swell magnets and 8ft+ sets on the Mornington Peninsula.
Sunday morning will continue to provide solid levels of SW swell as a secondary fetch of broad SW gales are projected up through our south-western swell window during tomorrow.
This should keep 4-5ft waves hitting the Surf Coast and 8ft sets on the Mornington Peninsula Sunday morning before easing off slowly through the day and further from 3ft+ and 6ft+ respectively Monday morning.
Now, winds will be best for the Surf Coast all weekend with a fresh and gusty W/NW tending W/SW breeze tomorrow and W/NW tending SW winds Sunday.
Monday unfortunately now looks average with a high moving in from the west taking its time resulting in winds lingering from the S/SE across all locations.
Tuesday will be the day to surf when the swell becomes smaller and more manageable on the exposed beaches east of Melbourne under a fresh N/NE'ly. Size wise we should see easing 3-5ft waves with, 2ft+ sets on the Surf Coast.
Wednesday will be a lay day as the swell becomes tiny under early NW winds ahead of a shallow SW change through the morning.
Into the second half of the week we should see some good W/SW swell filling in again, but at this stage, not to the size of the weekend's swell.
First a short-lived pulse of W/SW swell is due Thursday from a strong but unfavourably tracking mid-latitude low from under WA, south of the Bight and then down past Tassie. A fetch of gale to severe-gale W/SW winds will be aimed temporarily through our swell window, kicking up a short-lived pulse to 2ft on the Surf Coast and 3-5ft on the Mornington Peninsula.
Winds are a little tricky but a W/NW to SW breeze is more than likely, favouring the Surf Coast. Beyond this a broader and better tracking frontal system should generate a secondary W/SW groundswell for Friday/Saturday but well look at this again Monday. Have a great weekend!