Good weekend, favourable windows through next week
Victoria Forecast by Craig Brokensha (issued Friday 12th December)
Best Days: Saturday, best mid-late morning, Sunday morning, Monday morning for keen surfers, early Wednesday around Torquay, Thursday morning
Recap
Conditions were terrible yesterday with a strong onshore wind and junky windswell to 2-3ft on the Surf Coast and a touch bigger on the Mornington Peninsula.
Today a small reprieve in the winds has been seen across both coasts with worakble but still onshore 2ft waves west of Melbourne while to the east conditions were cleaner but sloppy and peaky with an E'ly breeze and junky mix of swells.
This weekend (Dec 13 -14)
There's been no change to tomorrow's good pulse of inconsistent SW groundswell with the Surf Coast still due to peak around 3ft+ through the day with larger 5-6ft+ sets across the Mornington Peninsula.
Winds will improve through the morning across both coasts and conditions will probably be best mid-late morning with a N/NE breeze on the Mornington Peninsula and even a possibly N/NW'ly on the Surf Coast. But early morning conditions will likely still be peaky and not as lined up, favouring the beaches across the Surf Coast.
Afternoon sea breezes are due, so don't hold off too long during the morning for a paddle.
Sunday is looking a little dicey with only a brief period of variable (tending locally offshore) winds due around and just after dawn before a shallow SW change moves through. Therefore surf early for the cleanest waves with an easing 2-3ft of swell on the Surf Coast and 4-6ft waves on the Mornington Peninsula.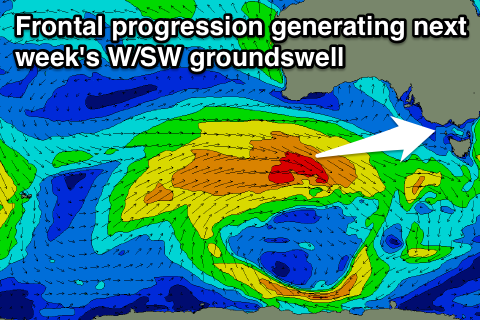 Next week onwards (Dec 15 onwards)
Sunday's change is expected to peter out overnight leaving light variable winds into Monday morning, possibly lingering from the S/SE. The swell will be small in any case coming in at 2ft on the Surf Coast and 3-4ft+ on the Mornington Peninsula.
Our building levels of W/SW swell through Tuesday, peaking Wednesday are still on track and winds are still looking a little dicey.
The W/SW swell will be generated by a couple of frontal systems. The first firing up from the south-west of WA at polar latitudes ahead of a secondary system pushing through the Bight over the weekend and into early next week.
A moderate sized W/SW groundswell should result, building through Tuesday to 2-3ft through the afternoon on the Surf Coast and 5-6ft on the Mornington Peninsula before peaking Wednesday to 3ft+ and 6ft+ respectively.
Winds will be good Tuesday morning before the swell really kicks and from the W/NW on the Surf Coast but a fresh to strong SW change is due through the day. Wednesday morning looks to offer a small window of W/NW winds before the weak gradient S/SE winds kick in. Therefore the early will be the go on Wednesday around Torquay.
A slow drop in size is due into the end of the week and following weekend as a couple of weak secondary fronts produce reinforcing amounts of W/SW swell. Winds should be variable again Thursday morning creating cleanish conditions before a trough moves through Friday bringing onshore and fresh S/SW winds.
Longer term there's nothing too major on the cards at all, so make the most of the coming windows of better waves. Have a great weekend!