Good east of Melbourne tomorrow, Surf Coast Monday and Tuesday
Victoria Forecast by Craig Brokensha (issued Friday 21st November)
Best Days: Saturday east of Melbourne, Monday and Tuesday mornings west of Melbourne, early Wednesday around Torquay
Recap
Locations east of Melbourne offered the best waves yesterday with an easing swell and offshore winds from the N'th ahead of a W'ly change early afternoon.
Today a new SW swell has filled in but onshore winds have created average conditions with 2-3ft surf west of Melbourne and 5ft sets to the east.
This weekend and next week (Nov 22 - 28)
The best waves this weekend will be found east of Melbourne tomorrow and at other exposed breaks across the state as today's swell eases off gradually through the day. The Surf Coast should drop from 2ft+ while the Mornington Peninsula should be in the 4-5ft range, easing to 3-4ft during the day.
Offshore N/NE winds are due across the Mornington Peninsula through the morning ahead of a shift to the N/NW through the afternoon. The Surf Coast should be clean all day and best on the beaches with a N/NW breeze.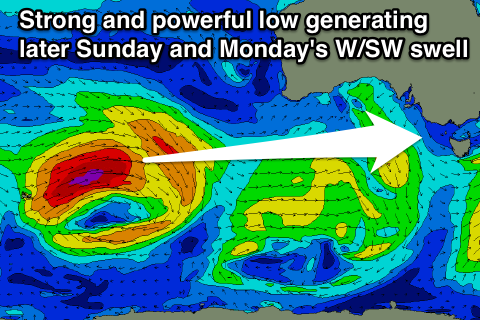 Sunday morning will start out slow with small clean 1-2ft waves on the Surf Coast under a light NW wind.
A new long-range and very inconsistent W/SW groundswell should start to show through the day though, generated in our far western swell window between Western Australia and Heard Island. The Cape Sorell buoy should pick up the leading edge of this swell overnight Saturday in the form of 20s+ periods.
While this low was very strong, the large distance between the source of the swell and our coasts will result in a fair bit of swell decay and extremely inconsistent swell. We're looking at a slightly later arrival than expected on Wednesday with an afternoon kick to 2-3ft expected across the Surf Coast by dark, with 4-6ft sets on the Mornington Peninsula.
This will be when weak onshore SW breezes develop, so Sunday isn't looking too special at this stage.
We should see the swell peak Monday morning, mixed in with some closer-range W/SW swell from the same storm pushing under WA while weakening through today.
The Surf Coast should offer 3ft+ sets with 5-6ft+ waves on the Mornington Peninsula during the morning before easing a touch through the day.
Monday morning should be good across the Surf Coast with a morning NW-W/NW breeze but a fresh SW change will move through around midday.
Tuesday should be OK again with an early W/NW'ly and smaller W/SW swell to 2-3ft around Torquay and 4-6ft on the Mornington Peninsula.
Another small reinforcing SW swell from weak frontal activity projecting towards us through the first half of next week should keep 2ft to occasionally 3ft waves hitting the Surf Coast through Wednesday and 4-5ft+ waves on the Mornington Peninsula but winds will turn dicey with an early W'ly giving way to a S/SW change mid-morning.
This will leave onshore E/SE winds through Thursday and Friday as the swell backs away.
Longer term there's nothing significant at all on the cards with small to tiny background swells for next weekend and into the following week. Check back here on Monday for any change to this and have a great weekend!