Friday, 19 September 2014
Sunday on the Surf Coast, beaches to the east from Monday
UNLESS YOU LIVE AT THE BEACH, PLEASE DON'T TRAVEL TO SURF
COVID-19 is changing the way we think about surfing. Travelling to the surf now means you're putting an unnecessary strain on the resources of small regional communities. So, please stay home. If you live near the beach and want to surf, please maintain a healthy spacing in the lineup, don't hang in the carpark, and keep your surf sessions shorter to allow others the opportunity to get wet. Above all, stay happy, healthy and look out for one another.
Victoria Forecast by Craig Brokensha (issued Friday 19th September)
Best Days: Early Saturday around Torquay, Sunday morning on the Surf Coast, each morning Monday through Thursday across both coasts
Recap
Poor conditions continued across most locations yesterday with a stormy mix of swells and fresh to strong onshore winds. The Torquay region saw an early W/SW'ly creating surfable waves for keen boardriders before winds reverted back to the S/SW.
Today the swell has eased back to 2-3ft on the Surf Coast and 4-6ft on the Mornington Peninsula with better conditions around Torquay early under a W/NW breeze. This has since shifted back onshore and will remain so for the rest of the day.
This weekend and Monday (Sep 20 - 22)
Today's swell should drop further into tomorrow but the Surf Coast should still offer 2ft+ sets across exposed breaks through the morning, with 3-5ft waves on the Mornington Peninsula ahead of a late kick in new long-range W/SW groundswell.
This swell was generated by a vigorous polar frontal progression dipping east-southeast from the Southern Indian Ocean (south-west of WA) and will be very inconsistent, with a 3ft and 6ft sets due later Saturday across the Surf Coast and Mornington Peninsula respectively.
The swell should hold into Sunday to a similar size before easing back through Monday from an inconsistent 2ft on the Surf Coast and 3-4ft+ on the Mornington Peninsula.
Winds tomorrow will be generally onshore and moderate in strength from the S/SW across most locations, but the Torquay region should see early W/NW winds similar to this morning.
Sunday morning should see light onshore SW winds across the Mornington Peninsula (possibly even variable at stages) with better W/NW winds around Torquay on the Surf Coast that will be longer lived than Saturday. Monday is still the day for the beaches east of Melbourne with morning offshore N/NE winds (N/NW on the Surf Coast) that are only expected to swing light onshore into the afternoon.
Next Tuesday onwards (Sep 23 onwards)
Tuesday morning is expected to be a low point in swell activity, but exposed breaks on the Mornington Peninsula should still be picking up inconsistent 3ft+ sets with offshore N'ly winds through the morning before again tending variable and possibly giving into weak sea breezes.
A new long-range and very inconsistent W/SW groundswell is due through the day though, generated in our far swell window in the Southern Indian Ocean and this should provide slightly better 2ft waves on the Surf Coast with 5ft bombs on the Mornington Peninsula.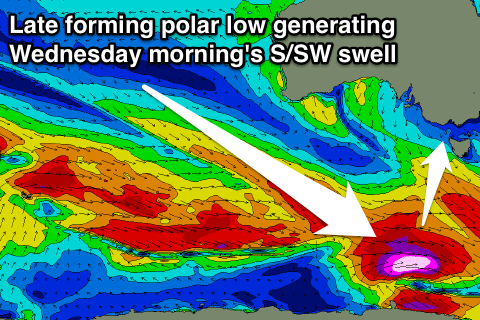 Into Wednesday a better S/SW groundswell is due across both coasts, generated by a very deep and powerful polar low forming late in our swell window to our south-west on Sunday evening. A burst of gale to severe-gale W/SW winds will be generated right on the edge of our swell window before the system pushes east and under Tassie, generating an inconsistent but good S/SW groundswell for Wednesday morning.
The Surf Coast should see infrequent 2-3ft sets across most breaks with 4-5ft waves on the Mornington Peninsula with offshore N/NW winds on the former and straighter N'ly winds for a period across the later before a weak SW change moves through.
A dip in size is due through the afternoon, and further into Thursday morning ahead of a new SW swell during the day. This swell should be similar to Wednesday morning's, generated by a trailing polar front behind the strong low as winds persist from the N/NE.
Longer term there's still nothing major on the cards besides distant and very inconsistent levels of W/SW groundswell. We may see a more active period into the week starting the 29th, but we'll review this Monday. Have a great weekend!