Poor period with persistent onshore winds
Victoria Forecast by Craig Brokensha (issued Friday 15th August)
Best Days: Saturday morning for desperate surfers, Wednesday morning, Thursday onwards
Recap
Lighter onshore winds and a new SW groundswell created better conditions across the region yesterday with 3-4ft sets at swell magnets on the Surf Coast and 6ft waves on the Mornington Peninsula. Winds tended more variable into the afternoon creating glassy, lumpy but fun waves after the recent run of onshores.
Today as expected, winds have finally swung offshore with a good but inconsistent swell to 3ft across the Surf Coast and 5-6ft on the Mornington Peninsula. Make the most of today as even though winds will swing light onshore this afternoon as the swell eases, the coming period isn't looking too flash at all.
This weekend and next week (Aug 16 - 22)
Today's swell is expected to back off into tomorrow leaving small 2ft waves on the Surf Coast and 3-4ft sets on the Mornington Peninsula.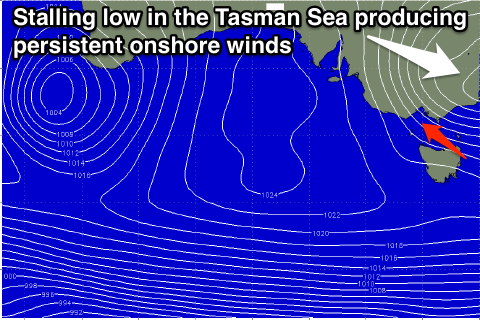 Winds will be OK for an early with a variable breeze but this is expected to freshen from the E/SE during the day. This onshore wind will be related to a deepening Tasman Low off the East Coast and unfortunately with the low hanging in the Southern Tasman Sea through early next week, we'll see persistent and fresh to strong onshore S/SE winds developing from Sunday through Tuesday.
This onshore winds will spoil a new SW groundswell for Sunday as well as a couple of stronger and better pulses on Monday and Tuesday to 3-4ft on the Surf Coast and 6ft+ on the Mornington Peninsula.
Wednesday morning looks to finally see winds ease back and tend variable across the state as the low pushes off to the north-east with an easing swell from 3ft on the Surf Coast and 5-6ft on the Mornington Peninsula.
Into the end of the week we should see winds swinging anti-clockwise from the E/NE to an offshore N'ly as a ridge of high pressure moves in, and a new long-range and inconsistent SW groundswell for Thursday should provide plenty of waves.
This swell will be generated in our long to medium range window from a vigorous polar front firing up around Heard Island and hugging the polar shelf while pushing east.
Inconsistent 3ft+ sets are due across the Surf Coast on Thursday as the swell peaks with 6ft+ sets on the Mornington Peninsula, but E/NE winds will favour the later.
Friday should be better across most locations as the swell eases with light local offshore winds before tending N/NE into the afternoon.
Longer term there's nothing too serious on the cards, but we'll review this Monday. Have a great weekend!