Surf Coast over the coming days, back to the east Monday
Victoria Forecast by Craig Brokensha (issued Wednesday 16th July)
Best Days: Thursday before the change, early Saturday, early Sunday, Monday, Tuesday
Recap
Monday's swell dipped back temporarily into yesterday morning as moderate to fresh N'ly winds provided great waves east of Melbourne. A new long-range and inconsistent W/SW groundswell built through the afternoon though and offered better but inconsistent 3ft sets at 13th Beach with 6ft bombs on the Mornington Peninsula.
Today the swell has dipped back again, but another afternoon increase in W/SW groundswell is due with 3ft sets due to develop on the Surf Coast again with 6ft'ers to the east as winds swing N/NW.
This week (Jul 17 – 18)
This afternoon's kick in W/SW groundswell will be replaced by a stronger increase through tomorrow, generated by a vigorous mid-latitude frontal progression through the Southern Indian Ocean over the weekend and early this week.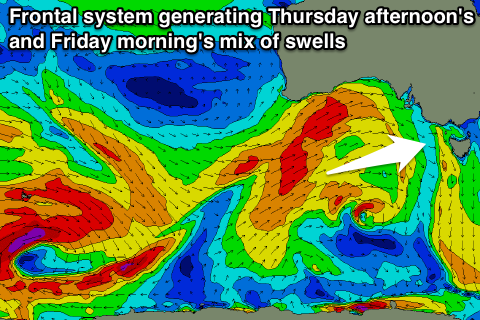 This will will be boosted by a reinforcing and slightly stronger W/SW groundswell into the afternoon, generated as the progression approached the Bight yesterday, while a fetch of more favourable SW gales at the base of the progression today should generate some better SW swell for Friday morning.
Size wise we should see the Surf Coast increasing to 3-5ft through the afternoon (smaller early) with 6-8ft+ sets on the Mornington Peninsula into the afternoon. A drop then from a similar size is due on Friday.
Winds will be an issue though with tomorrow being the best of it as a fresh to strong NW'ly gives way to a late afternoon SW change which unfortunately looks to persist from the S/SW into Friday. There's a slim chance of an early W'ly around Torquay, but less so than normal due to the southerly gradient flow in the wake of tomorrow's change. Therefore it's not worth the drive from Melbourne for a wave Friday morning.
This weekend onwards (Jul 19 onwards)
Thursday/Friday's swell will drop back through Saturday but a small reinforcing SW groundswell should steady the easing trend into the afternoon ahead of a more noticeable drop through Sunday. The Surf Coast should hold in the 3ft range for the most part, with 6ft+ sets on the Mornington Peninsula.
Winds should improve around Torquay, swinging offshore from the W/NW Saturday morning but remaining average everywhere else, while Sunday looks to play out similar but with a better NW wind on the Surf Coast ahead of a weak SW'ly into the afternoon. The Mornington Peninsula will likely see W/NW winds through the morning, opening up a few options.
Longer term there's nothing too major on the cards, but an active westerly storm track stretching from Heard Island all the way across to under our country will provide fun pulses of medium sized SW groundswell. Each pulse will be linked to a frontal system firing up along the storm track, with an initial increase due Monday morning ahead of a secondary increase for Tuesday afternoon.
Size wise, the Surf Coast should pulse back to 3ft+ or so Monday morning with 5-6ft+ waves on the Mornington Peninsula before easing back into the afternoon and further Tuesday morning. Tuesday afternoon's pulse looks to be a touch smaller, but we'll look at this again Friday. Winds look as if the'll be favourable for both coasts with light local offshores Monday morning and N/NW winds Tuesday.