Great waves Thursday, then a mixed round from the south
Sydney Hunter Illawarra Surf Forecast by Ben Matson (issued Wed 4th Oct)
Features of the Forecast (tl;dr)
Punchy though easing NE swell Thurs with gusty offshore winds
Building S'ly swell Fri, but with an a'noon S'ly change (smaller and cleaner AM)
Plenty of S'ly swell all weekend, best Sunday when winds ease back
Small levels of background S'ly swell most of next week, generally light AM winds
Recap
North-east windswells remained small on Tuesday, but have built strongly today with open NE facing beaches already 4-5ft by mid-morning; bigger surf is expected this afternoon. N/NE winds are strengthening about the coast though we're now starting to see variable pockets across the Far South Coast as a low pressure system develops.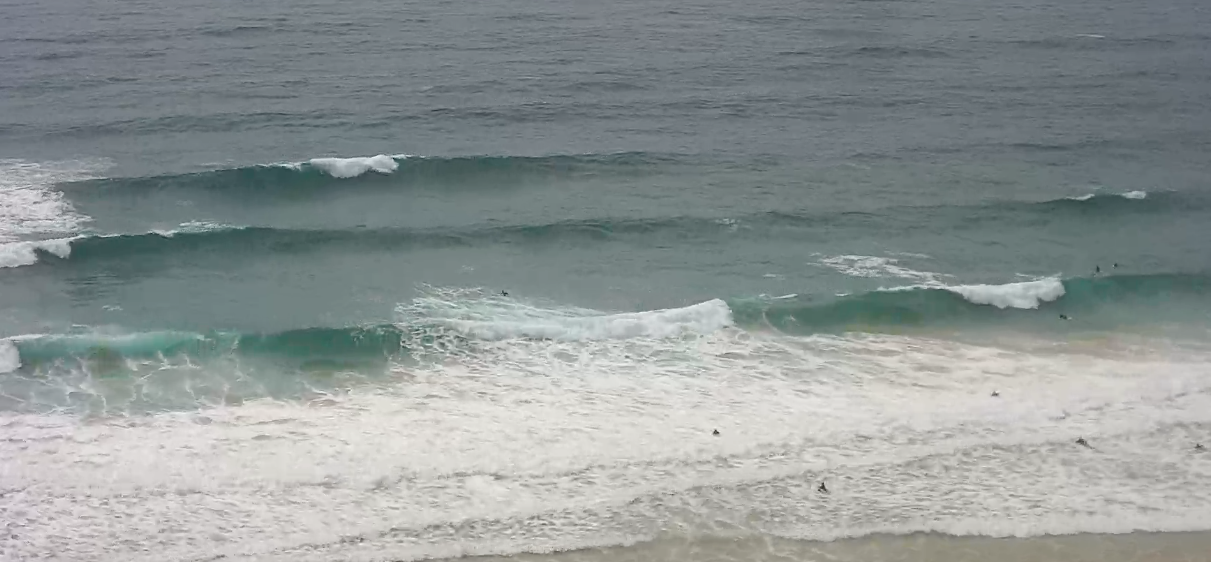 This week (Oct 5 - 6)
No major changes to the outlook for the rest of the week.
Today's building short range NE swell will reach a peak during the middle of the night, with the fetch expected to begin a counter-clockwise swing outside of our swell window from about 8pm onwards. As such surf size will probably peak just after midnight and then trend down steadily, however we should still have plenty of size early morning with 4-5ft sets at NE facing beaches, slightly bigger across the South Coast. Expect size to ease to 2-3ft into the afternoon.
Conditions will be clean if somewhat blustery with gusty NW winds tending W'ly through the day. Keep in mind that south facing beaches - such as Bondi and Cronulla - will see much smaller surf due to their poor alignment with the incoming swell direction.
Friday will see the NE swell all but gone (just a few early stray 1-2ft sets at swell magnets) however we'll see building southerly swells, originating from gale to storm force W/SW winds exiting eastern Bass Strait on Thursday. It'll be supplemented by a straight south swell from an adjacent fetch pushing up the eastern Tasmanian coast, around the same Tasman Low responsible for all of today's wild weather.
Surf size will start off a little undersized but should reach 4-5ft at south facing beaches by the afternoon, with the strongest surf showing across the Hunter region late in the day (maybe some bigger sets too). However, beaches not open to the south will be much smaller.
Conditions look nice and clean early Friday - unfortunately whilst surf size will be at its (relative) smallest - and a fresh southerly change will sweep into the Illawarra before lunch, reaching Sydney early/mid afternoon, so you'll need to keep an eye on things as the southerly swell builds.
Nevertheless, there will be waves!
This weekend (Oct 7 - 8)
A series of strong fronts will push through the lower Tasman Sea behind the developing low, and will supply plenty of south swell for the weekend.
Unfortunately, these fronts will also maintain moderate to fresh southerly winds for Saturday morning, easing slowly into the afternoon. Early morning may see isolated pockets of SW winds across a few locations (i.e. Northern Beaches), but in general expect the southerly to affect surface conditions at most exposed spots.
As for size, the late Friday increase should maintain size through Saturday with 4-5ft sets at south facing beaches (bigger across the Hunter) but smaller elsewhere.
Sunday looks like the pick of the weekend with light variable winds and sea breezes, and slowly easing surf from 3-5ft at south facing beaches, smaller elsewhere though still some bigger sets across the Hunter. The easing trend probably won't be quite as noticeable as we're used to, thanks to a secondary front maintaining good swell generating characteristics through the lower central Tasman Sea throughout Saturday.
Next week (Oct 9 onwards)
We'll see small southerly groundswells push into the Tasman Sea next week from a vigorous polar frontal passage below the southern Indian Ocean and Australian continent. Size won't be very large but there'll be enough energy to offer fun waves at south facing beaches all week.
The latter stages of this polar activity will flare below New Zealand early next week, and will offer small levels of long period S/SE swell throughout the middle to latter part of next week, though again, no major size is expected.
Local conditions look generally favourable at this stage with nothing major on the boil, so conditions should be clean through the mornings.
See you Friday!