Monday, 13 July 2020
Low set to 'bomb' in the Tasman
Sydney, Hunter and Illawarra Surf Forecast by Craig Brokensha (issued Monday 13th July)
Best Days: Experienced surfers only in protected spots Wednesday through Friday, Saturday experienced surfers, Sunday, Monday
Recap
A mix of leftover S/SE swell and small E'ly energy Saturday to 2ft on the sets with clean conditions and variable winds all day, while a new S'ly groundswell provided stronger 3ft+ surf yesterday with light winds and afternoon storms.
Today there's still inconsistent sets to 2-3ft out of the S'th, with a smaller E'ly swell to 1-2ft.
This week and weekend (Jul 14 - 19)
In the wake of yesterday afternoon's storms the first burst of cold air moved in and currently we're seeing a surface trough sitting just off the coast, feeding off a deeper cold pool in the upper atmosphere.
This will result in the development and deepening of a significant low pressure system in the Tasman Sea, with an infeed of strengthening E/SE winds on its southern flanks as westerly breezes freshen to the north.
The axis of the trough is currently around Narooma and we should see building levels of E/SE swell with clean conditions anywhere north of this axis later today, onshore, wet, stormy and poor to the south of it.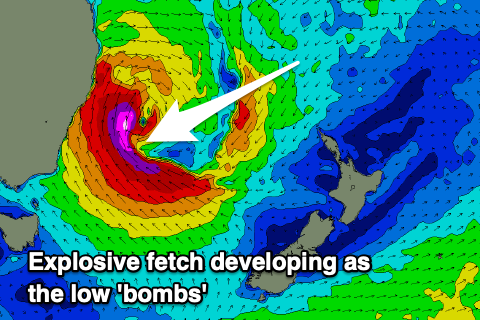 As this trough drifts further offshore we'll see the formation of a broad area of low pressure in the Tasman Sea (not classified as an East Coast Low), with it now expected to 'bomb' (discussed in more detail below).
Regardless of the classification, we're set to see a significant and prolonged swell event out of the SE this week, easing only gradually into the weekend as the direction swings more E/SE.
So through this evening we'll see E/SE winds continue to broaden and strengthen until the low forms proper early tomorrow morning.
With the central pressure forecast to drop from 1014hPa to 988hPa in the 24hour period from 7pm today to tomorrow, the low will 'bomb' and as it does so, an explosive fetch of severe-gale to storm-force SE winds will develop on top the growing sea state generated by the strengthening winds before it. This will occur through tomorrow, ahead of a slight weakening and broadening of the low Wednesday.
We'll see an elongated fetch of SE gales through Wednesday with core winds likely being a touch stronger as embedded lows rotate around the main centre.
Looking at the expected trend in size, and early tomorrow will see moderate sized levels of E/SE-SE swell, large down South but quickly becoming large out of the S/SE-SE as the western arm of the low projects up the coast. This will bring strong S/SE tending S'ly winds and a rapid increase in swell to 6-8ft by late afternoon and likely bigger on dark, while the large pulse of SE groundswell (from the strongest part of the fetch) is due Wednesday morning.
The bulk of the strongest fetch is aimed towards Newcastle and the Mid North Coast, but the Sydney region should see 10-12ft sets and with the direction and period (bigger deep water reefs), and even southern corners will be large and only for the very experienced with the east in the direction. Expect a touch less size on the south coast and sets likely to 12ft to occasionally 15ft across the Hunter magnets and offshore bomboras.
Thursday may be a little smaller, but with a secondary projection of SE gales towards us through Wednesday I can't see the surf dropping too much at all from Wednesday. Maybe a touch less period but similar in size and around 10ft in Sydney, 10-12ft across the Hunter.
Winds look only favourable for southern corners with fresh to strong S/SW breezes, more SW across the Northern Beaches and possibly even tending W/SW times during the morning Wednesday. Thursday will play out similar but with a little less strength to the local winds.
From Friday we should start to see the size easing though not dropping below 6-8ft out of the SE owing to an upper level ridge cradling the low throughout the whole week as it slowly weakens, moving off slowly east through Saturday but more so Sunday.
With this we'll see winds on its south-western flank weaken through Wednesday evening, while over towards New Zealand, a Cook Strait fetch of E'ly gales will develop, persisting into Thursday and Friday but dropping to strong in strength from Thursday afternoon.
A reinforcing E/SE groundswell will be seen from this source, likely showing later Friday but peaking Saturday morning, keeping the surf up around 6ft+ on the sets. An easing trend should be seen into the afternoon but more noticeably from Sunday as the size and period drop, with easing sets from 4-5ft or so, smaller again Monday though likely hanging in at 3-4ft.
Coming back to the local winds and we'll see fresh to strong S/SW breezes continuing Friday, tending SW across selected locations through the morning, while as the low pushes east and weakens, we'll finally see lighter W/SW offshores Saturday morning ahead of NE sea breezes.
A front will then move through Sunday bringing N/NW-NW winds and then stiffer W'ly breezes Monday.
Longer term we're looking at a renewal of moderate sized S'ly swell through the middle to end of next week as a cold front pushes up the Tasman Sea, but we've got plenty to deal with in the short term.