Wednesday, 16 May 2018
S'ly swell regime with favourable winds
Sydney, Hunter and Illawarra Surf Forecast by Craig Brokensha (issued Wednesday 16th May)
Best Days: Thursday, Friday afternoon, early Saturday morning, Sunday, Monday, Tuesday morning, Wednesday
Recap
Yesterday saw pumping surf across the Sydney region at breaks handling the clean 4-6ft SE groundswell, which was a little raw early but settling mid-morning. A shallow S'ly change moved through the day with weaker sea breezes into the afternoon.
This morning the SE swell was back to 3-4ft, and a S'ly change just before dawn created average conditions, but winds swung back offshore for a few hours on the Northern Beaches, creating super fun surf again.
Today's Forecaster Notes are brought to you by Rip Curl
This week and weekend (May 17 – 20)
These notes will be brief as Ben's away today.
Today's change has generated a short-range S'ly swell that's filled in this afternoon while the SE energy backs away, and we'll see a stronger S'ly groundswell signal tomorrow morning from the earlier stages of this front as a polar low.
South magnets are due to come in at 3ft to occasionally 4ft, easing through the day as the short-range S/SE swell also eases.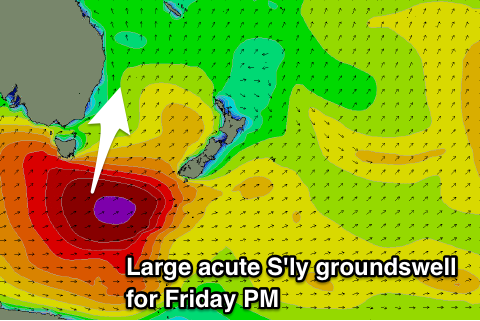 Winds look great through the morning for south magnets with a light W/NW offshore ahead of afternoon NE sea breezes.
A low point in swell is due Friday morning with leftover 2ft+ sets across south magnets and a morning W/NW offshore again, giving into a very weak S'ly change into the afternoon and possibly even variable across the coast.
Our new large long-period acute S'ly groundswell is still on track, with a severe low generating a fetch of storm-force W'ly winds along the polar shelf.
Satellite observations of this low have been great and they indicate the system weakening ever so slightly while projecting east-northeast towards New Zealand this evening and tomorrow morning.
The swell should hit the buoys Friday morning with a 20s signal, with the bulk of the energy arriving into the afternoon and evening.
Expect south facing locations to kick to a large 5-6ft by dark ("The large groundswell is being under forecast by the wave models"), with 8ft bombs at deep water reefs and across the Hunter.
As touched on in Monday's notes, these long-period S'ly groundswells always do funky things and focus into some places and not into others, so expect to do a bit of driving if trying to maximise the swell potential off this system.
The swell will be easing into Saturday, dropping from 3-5ft across south magnets along with a dawn W/SW breeze, tending more SW through the morning and then S/SE into the afternoon as a front clips the south-east of the country.
This front will generate a fetch of SW gales south-east of Tasmania, through our southern swell window, generating a new long-period S'ly groundswell for Sunday, peaking through the afternoon.
We should see solid 4-5ft sets across south facing beaches, larger on the Hunter and with W/NW tending variable breeze.
This frontal system will likely signal the start of a prolonged period of S'ly groundswell energy as a strong node of the Long Wave Trough sits across the Tasman Sea, directing front after front up through our southern swell window.
The models are still shifting around regarding the timing and strength of polar fronts being projecting through our southern swell window, but there'll be no lack of swell next week. Check back Friday for the latest on this southerly swell regime.