Building E/NE groundswell, but frustratingly inconsistent
Sydney, Hunter and Illawarra Surf Forecast by Guy Dixon (issued Friday 22nd January)
Best Days: Open beaches each morning over the coming period
Recap:
A northeasterly windswell was the most reliable source of swell on Thursday, providing weak options in the 1-2ft range. Throughout the afternoon, we saw the first hints of east/northeasterly groundswell with more powerful lines rolling through in the 2ft range, although very inconsistent.
This afteroon, the groundswell has increased, but still remaining very inconsistent. Open beaches have been offering occasional sets in the 2-3ft range, remaining relatively clean under light variable winds.
This weekend (Saturday 23rd - Sunday 24th):
East/northeasterly groundswell looks to be the most dominant swell in the water over the weekend, accompanied by a building southerly windswell breaking across the exposed beaches.
Tropical Cyclone Victor has been the talk of the town over the past week and is still on course to provide inconsistent, but good groundswell to the open beaches and points along the east coast of Australia.
We have been seeing very inconsistent sets in the 2-3ft range today, which are expected to build from 3ft+ to the 3-5ft range by later Saturday, building maintaining Sunday.
Meanwhile, a southerly groundswell which has been breaking in the 2ft+ range across the magnets today will fade, being backed up only by second very weak frontal progression. A building southerly windswell in the wake of a gusty change will easily overshadow the remnants of this groundswell by the afternoon, increasing to a choppy, low quality 2-3ft across south facing beaches on Saturday afternoon.
This southerly windswell looks to reach its peak on Sunday morning, with junky options in the 3ft to maybe 4ft range at south facing beaches.
For those rising early on Saturday, breezes look to be prevailing from the south/southwest along the Illawarra coast, lighter and more westerly further north along the Sydney and Hunter coasts. This will easily be the best time for a wave, as breezes are forecast to straighten up from the south and increase slightly throughout the day.
Open beaches will be able to snag a wave early, but options will then become confined to protected southern corners throughout the day picking off Victor sets.
Breezes still look fairly gusty on Sunday morning prevailing from the south/southwest, easing steadily throughout the day and tending southeasterly. Again, hit it early for the best results.
Next week (Monday 25th onward):
Victor is continuing along its southern track today and will continue to do so during the coming days. As it moves south over cooler waters today and throughout early Saturday, models suggest it may weaken slightly. However, during Sunday, it looks as though the system will broaden and re-intensify at a latitude of around 30 degrees, just northeast of NZ and well aligned to the Hunter coast (discussed further below).
As a result, Monday should see the swell hold 3-5ft. Most other swell sources should fade, with south facing beaches easing from the 2ft range.
Energy may ease slightly on Tuesday, with most sets in the 3ft+ range, with the odd 4 footer rolling through every so often. Tiny hints of southerly energy should also be filling in across the south swell magnets, throughtout Tuesday and Wednesday to around 1-2ft, but lacking energy.
Tiny hints of southerly energy should also be filling in across the south swell magnets, throughtout Tuesday and Wednesday to around 1-2ft, but lacking energy.
A third and final swell source also looks to develop around this period, in the form of a northeasterly windswell steered by a Tasman Ridge. This ridge looks to steer an increasing east/northeasterly airflow towards the coast, gradually increasing and tending northeasterly throuhgout Wednesday and Thursday.
As a result, we can expect a short range northeasterly windswell to build across the open beaches, reaching the 2ft range by Tuesday afternoon and increasing to 2-3ft by Wednesday afternoon.
A light/moderate southeasterly breeze is likely to persist throughout Monday swinging easterly late. Although light, this airflow may make it tricky to find a clean wave, with most breaks likely to be slightly bumpy/crumbly.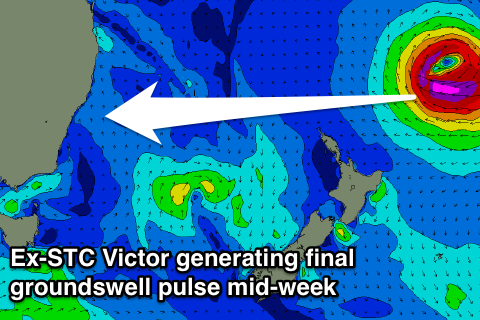 Tuesday is also likely to see this onshore airflow continue (all associated with the Tasman Ridge) prevailing from the east/southeast along the Hunter Coast, more east/northeasterly along the Illawarra coast. Again, a clean wave will be pretty hard to come by, workable, but crumbly.
Further into the week, energy off (by this stage Ex-) TC Victor will be kick once again from the re-intensification mentioned earlier, with sets in the 3-5ft range on Wednesday afternoon, easing on Thursday.
Further ahead, we are looking at small and modest fetches sitting off Cook Strait and the far southern tip of the South Island which should provide a small mix of southeastelry and easterly swell for the days ahead.