Victor's E/NE groundswell looking good from Friday onwards
Sydney, Hunter and Illawarra Surf Forecast by Guy Dixon (issued Wednesday 20th January)
Best Days: Friday, Saturday/Sunday at protected southern ends of open beaches and Monday.
Recap:
A southeasterly swell generated by modest fetches associated with a weak Tasman Low has been providing fun and workable options in the 2-3ft range across the Sydney, Hunter and Illawarra coasts over the past couple of days. Early offshores followed by a weak seabreeze has allowed conditions to remain fairly workable each afternoon.
This week (Thursday 21st - Friday 22nd):
Throughout Tuesday and overnight last night, a modestly sized northerly fetch of 20-30kts hugged the coast and has provided us with a small amount of northeasterly windswell today. In terms of size, it's not much, just a weak 1-2ft across the open beaches.
A weak southerly change is due to disrupt this northerly airflow later this evening, putting a limit on the potential for any substantial windswell generation in the short term.
This northerly fetch is likely to become re-established by Thursday morning, gaining a touch more size and intensity, with duration also working to our advantage. The impacts are still only expected to be modest, with open beaches picking up peaky short range windswell in the 2ft range, perhaps building to the 2ft+, maybe 3ft range with slight intensifications and improving alignment throughout the day.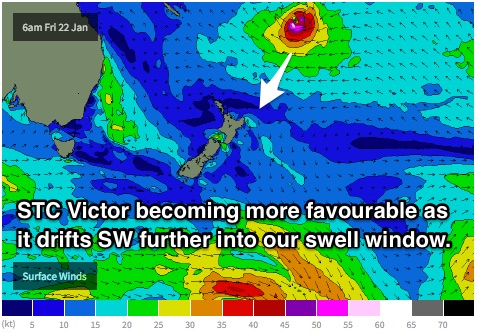 Thursday should also start to see the first signs of a very long range east/northeasterly swell generated by Severe Tropical Cyclone Victor. Victor has been lingering over the tropical South Pacific over the past few days and is forecast to move in a southwesterly direction, becoming more favourable for the NSW coast.
As this system drifts southward into the swell window, we expect to see more size as a direct impact from Victor as opposed to just sideband energy. Furthermore, we should also see consistency improve as this system edges closer to the mainland.
East/northeasterly groundswell is not expected to be anything substantial of Thursday, building to an inconsistent 1-2ft by the afternoon.
The best chance of a clean wave will be early, under a light northwesterly breeze. By mid-morning, all coasts look to be under an increasing northeasterly seabreeze.
Friday should see more substantial groundswell from Victor, building to the 2-3ft range across the open beaches.
Meanwhile, we should also see the peak in northeasterly windswell on Friday morning thanks to northerly breezes which persist throughout the night. The southern half of this northerly fetch should gradually move offshore on Friday whilst persisting throughout the day north of Sydney.
Open beaches are expected to peak in the 2-3ft range, with winds looking favourable.
The third and final swell in the water looks to favour south swell magnets, generated by a poorly aligned, but fairly strong frontal progression which is due to move over the Southern Ocean on Thursday. South facing beaches can expect inconsistent sets in the 1-2ft range.
Preceding a southerly change due on Saturday, breezes look to be light for the majority of Friday. Initially, we are looking at a light northwesterly airflow, remaining light with weak seabreezes developing throughout the late morning and afternoon.
Waves should be clean, if not easily workable for the majority of the day, with some models even picking afternoon offshores.
This weekend (Saturday 23rd - Sunday 24th):
East/northeasterly groundswell is only set to build throughout the weekend as discussed earlier, providing sets in the 3-5ft range on Saturday and Sunday.
Subtle ebbs and pulses of southerly energy generated by very small but very intense fetches off the ice shelf of Antarctica during Thursday are expected to fill in across the weekend, maintaining very inconsistent sets in the 1-2ft range across the south swell magnets.
Finally, a very small amount of southerly windswell is due across exposed beaches following Saturday morning's change, but really only to around the 2ft+ mark. South facing beaches will merely be choppy on Saturday, with the only option for a clean wave falling in the early morning where winds look to tend south/southwesterly. Protected southenr corners of the open beaches will be the way to go.
Similarly, Sunday should see an early southwesterly breeze, tending light southeasterly as the day wears on. It's still worth keeping it to the southern corners of the open beaches throughout the day to pick up workable sets of our mate Victor.
Next week (Monday 25th onward):
Local swell sources the following week look to become virtually non-existent, with only easterly groundswell continuing from Victor. Open beaches are expected to continue seeing solid sets in the 3-5ft range on Monday and Tuesday.
A light southeasterly breeze looks to continue on Monday, so protected southern corners and points will be the way to go. Options at these locations have the potential to be really fun once the weekend crowd drops.
Tuesday is also looking at a light onshore flow, with a small amount of discrepancy between models, some saying light southeasterly, some saying light northeasterly.
More detail to come on Friday.