Stick to the south swell magnets this long weekend
Sydney, Hunter and Illawarra Surf Forecast by Guy Dixon (issued Friday 2nd October)
Best Days: Saturday morning, Monday morning and Tuesday morning.
Recap:
We've had a pretty poor few days along the NSW coast in terms of surf. Tiny remnants of a southeasterly ground swell provided weak surf in the 1ft range along the Sydney and Illawarra stretch yesterday, plagued by a northeasterly breeze all day. The Hunter offered a touch more size as usual, with peaks in the 2ft range. Conditions actually remained quite clean and workable throughout the day despite a light southeasterly breeze.
If you look really hard, you may notice a marginal increase in size across Sydney and the Illawarra this afternoon, but conditions still remain pretty ordinary under a light onshore breeze. Similarly, the Hunter is small and wind affected with nothing much worth considering.
This weekend (Saturday 3rd - Sunday 4th):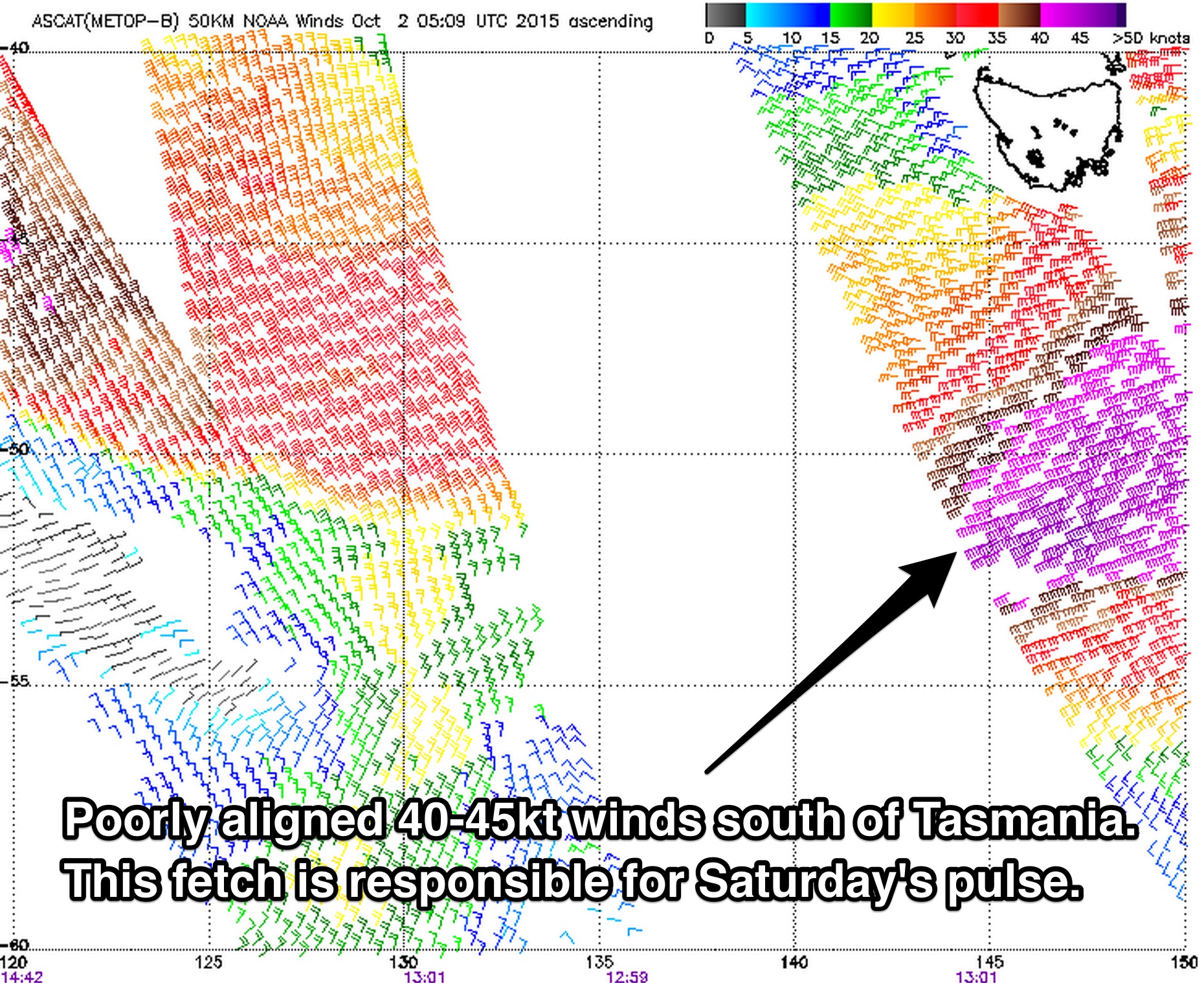 Over the past few days we have been keeping an eye on a pair of strong frontal progressions moving across the southern swell window. Despite being large and fairly strong systems, their alignment is poor so the effects felt along the NSW coast will be modest. The remaining swell windows to the north and east remain pretty quiet in the coming week, so we will have to rely on southerly energy over the long weekend for any chance of a wave.
The initial system has been passing south of Tasmania overnight with core fetches showing up on the satellite of 40-45kts (stronger core fetches were observed earlier in its life cycle but was in the swell shadow of Tasmania). Unfortunately, these core fetches are terribly aligned and as discussed in previous forecast notes, the southerly trailing fetch which once looked to provide us with more energy has pretty much disappeared.
The coast of NSW will merely feel side-band energy from this system which will severely moderate swell sizes as we move away from the swell source. However, Saturday is looking to build to the 2ft to very occasionally 3ft range exclusively at exposed south facing beaches (may be a little smaller right at dawn). Remaining locations will virtually miss out on any significant size all together. However the Hunter region's magnetic abilities under southerly groundswells should see it pick up a few larger sets through the afternoon.
The early session is definitely the pick of the bunch under a light westerly breeze. An increasing northeasterly breeze is then likely to kick in so keep the morning free. Sunday will see the surf ease preceding the next swell front, remaining clean and workable all day.
Next week (Monday 5th – Friday 9th):
The second system is still on track to move south of Tasmania late on Friday and into Saturday. In comparison to the previous system, it is much larger with much more intense core winds, however the alignment remains particularly poor. No doubt, westerly core fetches of 60-65kts will create a hell of a disturbance and good sideband energy, but a southerly trailing fetch throughout Saturday morning will provide the bulk of the energy.
As a result, the surf should bump up to around 2-3ft+ at exposed south facing beaches throughout Monday (again, maybe slightly smaller at dawn), slowly fading throughout Tuesday. Bigger surf is expected in the Hunter throughout the afternoon, but it'll be considerably smaller at locations not open to the south. Afternoon northeasterly seabreezes remain a risk each afternoon, particularly on Tuesday so capitalise on the early offshores.
Frontal activity moving across the southern swell window will continue providing small and brief pulses of southerly swell throughout the week. There are a few key days to keep an eye on however.
Firstly, we mentioned a northerly flow becoming established along the coast preceding a southwesterly change on Tuesday. This scenario is still on the cards, but later. Northerly breezes in the 20-25kt range have the potential to whip up a short range wind swell building into the 2ft range at NE swell magnets late on Tuesday/early Wednesday.
The southerly change (which is looking like a buster) is due to move through on Wednesday in the late morning/early afternoon which means offshore breezes for the best part of the morning. Small peaky a-frames may be on the menu so keep an eye out.
The southerly airflow itself is also looking generate a short range southerly swell peaking on Thursday. Periods will be low so we can expect noisy, disorganised conditions, but exposed south facing beaches have the potential to rise into the 3-4ft range. However, conditions aren't looking too flash under a persistent light onshore flow so it's not worth considering too heavily at this stage. I'll take another look at this next week.