Monday, 10 February 2020
Poor outlook goes on
UNLESS YOU LIVE AT THE BEACH, PLEASE DON'T TRAVEL TO SURF
COVID-19 is changing the way we think about surfing. Travelling to the surf now means you're putting an unnecessary strain on the resources of small regional communities. So, please stay home. If you live near the beach and want to surf, please maintain a healthy spacing in the lineup, don't hang in the carpark, and keep your surf sessions shorter to allow others the opportunity to get wet. Above all, stay happy, healthy and look out for one another.
Southern Tasmania Surf Forecast by Craig Brokensha (issued Monday 10th February)
Best Days: No good days
Recap
Cleaner than expected conditions Saturday morning with a small swell, still offering a couple on Sunday with easterly winds, favouring more protected spots.
Today the surf is tiny and only for beginners.
This week and weekend (Feb 11 - 16)
As touched on in Friday's notes, a small W/SW groundswell showing on the charts for tomorrow is only due to be tiny with 1ft sets continuing for beginners across Clifton, best for beginners.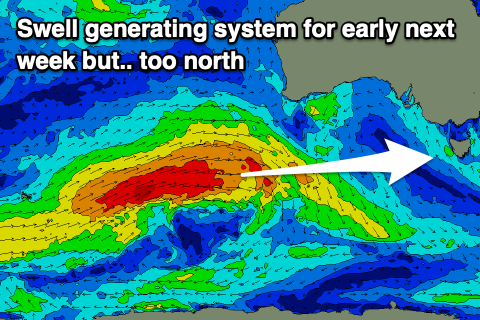 It was generated by a distant storm that travelled unfavourably through our swell window. Winds aren't ideal but workable in protected spots again with a morning E/NE'ly, shifting SW-S/SW mid-late morning.
Come Wednesday there isn't expected to be any decent size left on the coast and a surface trough will bring onshore S/SW winds and a poor quality windswell that'll ease Thursday under freshening E/NE winds.
Another tiny W/SW groundswell showing on the charts Friday will again offer no real size, with it generated even further away in our swell window but at a more southerly latitude.
Unfortunately the outlook remains poor following this with no significant groundswells and average winds into the weekend and next week. So again check the East Coast forecaster notes for more surfing options over the coming fortnight.