SE swell to hang around, not much going on for the end of the week
South-east Queensland and Northern NSW Surf Forecast by James Casey (issued Monday 21st June)
Outlook (tl;dr)
Easing SE swell tomorrow for MNC and N NSW
A final pulse of SE swell around the 3ft mark on Wednesday before the swells eases. Winds will be out of the NW early tending more NE as the day goes on.
Thursday and Friday is looking pretty lacklustre with NW winds and just leftover SE swell and a weak NE windswell
Long period, inconsistent S swells for the weekend, best south of Byron. Best left for the patient on Saturday, a little more consistent for Sunday.
Recap
The S swell for the MNC seemed to build throughout Saturday peaking in the afternoon on Saturday with reports of 6ft+ sets. It seems a lot of other spots completely missed out with the Hunter blocking the swell from getting in everywhere.
For N NSW the swell peaked early Sunday morning in that 5-6ft range, lingering around the same height all day. As expected SE Qld mainly missed out on this S swell as most of it sailed on by, struggling to reach 1-2ft at S swell magnets.
Today SE Qld is still small and clean, for N NSW the swell is dropping starting at 4-6ft early this morning but easing to 3-4ft by this afternoon. Meanwhile the MNC was 4-6ft early but again easing to 3-4ft by this afternoon. Winds are out of the SW so southern corners were your best bet.
This week
Tomorrow (Tuesday) we will see the swell ease temporarily down to the 2-3ft mark before another SE pulse arrives on Wednesday kicking things up to 3ft. This pulse will be from a little fetch of winds off the southwestern tip of NZ's South Island. I'd expect SE Qld to be a touch smaller due to the swell angle but it will get more swell than was seen on the weekend with the poorly aimed S swell.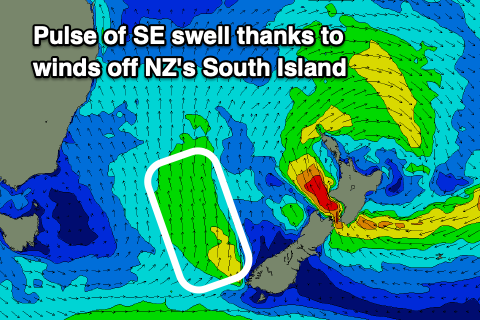 Winds will be SW early on Tuesday but shift around to the SE for the afternoon. Wednesday looks like there'll be light and variable offshore winds early before winds swing around to the NE as a mid latitude low approaches from the west. Winds north of Coffs to the south of Byron look to remain light and variable for most of the day while elsewhere looks bumpy with NE winds. Northern corners will be your best bet to make the most of the SE swell and NE winds.
These NE winds will create a small 1-2ft windswell for Wednesday and Thursday, while fairly soft it will provide more energy than the fading SE swell.
As the mid latitude low gets closer on Thursday winds will swing around to the N/NW and remain this way until Friday. Early morning on Thursday winds look to be offshore but by the afternoon we will see strong N winds. Friday will see strong NW winds all day without much swell to get excited about.
The weekend
It's not looking like a great forecast for the weekend especially for SE Qld but south of the border there will be some inconsistent S swells arriving on both Saturday and Sunday.
Winds will shift around to the SW on Saturday morning becoming light and variable into the afternoon. Meanwhile an inconsistent, long period S swell will fill in throughout the day. I wouldn't get too excited about this swell as it'll only really be for S swell magnets south of Byron and it'll be very lully but there'll be 2-3ft sets on offer for the patient. This swell will originate deep in the Southern Ocean travelling from beneath Tassie to reach our coast.
Sunday we will see a slightly more consistent swell build into the afternoon from another pulse of S energy from the Southern Ocean. It'll be more consistent as the fetch is better aimed and not as far west and south in the Southern Ocean. This second pulse will build throughout the day with 3ft sets for S swell magnets, again best for south of Byron. Winds will start off light and SW in the morning but look to shift around to the S/SE and weaken by the afternoon.
The inconsistent, long period S swell won't get into SE Qld and there isn't going to be much else going on so expect it to be near enough to flat.
Early next week there looks to be another pulse of S energy with a S change moving up the coast but things are lining up prety well for a decent E swell later next week. Keep an eye on it and let's see if things develop accordingly for an update (and my last update, for a while at least) on Wednesday.