Fading E swell this week, larger S/SE swell for the weekend
South-east Queensland and Northern NSW Surf Forecast by James Casey (issued Monday 14th June)
Outlook (tl;dr)
E swell to ease in size and energy from today until Thursday
SE swell to fill in late Thursday/early Friday but it'll only be about 2ft
Late Friday/early Saturday a new S swell to arrive best for S swell magnets, building throughout the day
Solid S swell to peak for Sunday into Monday up around the 5-6ft+ mark.
Recap
We have had a decent weekend of waves with smaller conditions on Saturday before a new swell built into Sunday reaching 3ft+.
Winds were light each morning before northerly component winds arrived around the middle of the day.
Today we have 2-3ft surf out of the E, a little bigger south of the border. Winds were light and offshore early but have turned light onshore this afternoon.
The new week
The E swell will continue to linger into the middle of the week. Expect 2-3ft sets tomorrow, generally easing in size and energy until Wednesday. It'll be fairly inconsistent as the E trade winds above NZ that were directing this E swell slowly weaken and fade out.
A new S swell will arrive early tomorrow (Tuesday) for the MNC and N NSW. We'll see this swell combine with the E swell allowing 2-3ft sets south of the border. This swell is thanks to S winds on the western flank of a low moving away from the coast. SE QLD won't see much of this swell as most of it struggles to get around the corner.
Winds tomorrow will be light and offshore early before a light and variable seabreeze makes things a little bumpy in the afternoon.
The swell will shift a bit more out of the S/SE on Wednesday as the low moves further east, this should allow more swell to get in for SE QLD. It'll still be small though without much more than 2ft of swell combining with the fading E swell.
Winds will be offshore early but an infeed of NE winds will build into the afternoon as a new low pressure system approaches.
The charts don't show it very well but on Thursday we will see a new S/SE swell thanks to S/SE winds below and west of NZ's South Island with the southwestern flank of a low. I'd expect waves to reach the 2ft mark. There'll be some NE windswell for the MNC as well but it'll be minor.
Winds on Thursday will be strong out of the NW early tending more W as a Tasman low forms off the coast.
The Tasman low will really fire up on Friday with the northwestern flank of the low starting to fire up. Unfortunately this only produces SW swell meaning it'll be poorly aimed. There'll be a bit of swell for S swell magnets but most of it will be going past the coast. I wouldn't expect more than 2ft.
Winds will be W/SW for most of the day so conditions will be clean.
The weekend and further ahead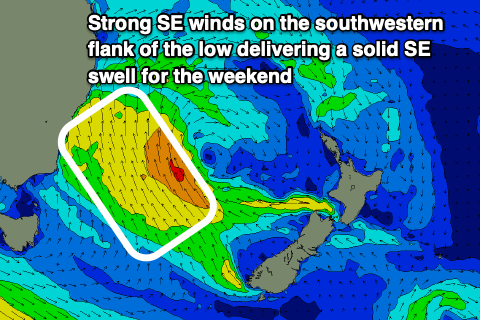 The southwestern flank of the Tasman low will whip up a better SE swell over the weekend with a peak on Sunday into Monday up around 5-6ft+ for south of the border.
Saturday looks like we will see the swell build from 2ft early to 3-5ft at S swell magnets late.
Winds look to be strong out of the SW early, tending more S/SW later in the day. This means you'll need to head to protected southern corners for cleaner conditions but there won't be as much swell getting in there.
The swell will peak on Sunday into Monday morning with waves up around the 5-6ft+ mark. Winds on Sunday look a little lighter but still fresh out of the SW early, tending more S as the day goes on.
The low will move towards NZ with a high setting up in the southern Tasman, bringing more settled conditions for the start of next week as the swell eases from the SE.
Tune in on Wednesday for an update.