Friday, 16 April 2021
Options for waves throughout the week
South-east Queensland and Northern NSW Surf Forecast by James Casey (issued Friday 16th April)
Best Days: Monday most of the day. Tuesday at S facing beaches
Outlook:
S swell to fill in on Saturday and into Sunday but with S winds persisting
Weak S windswell Sunday PM and Monday
S/SE swell from low could provide additional energy for Monday late/Tuesday
Longer period S swell to keep waves around the 3ft mark for Tuesday/Wednesday
Swell easing on Thursday
Potential for another moderate S swell for later in the week
Recap
The S/SE swell was short-lived but it did provide a nice little bump up in swell size for yesterday up around the 2-3ft mark for SE QLD and bigger south of the border, 4ft for N NSW and 3-5ft for the Mid N Coast.
Unfortunately today it is all but gone with just 1-2ft of swell on offer. At least conditions were nice early with offshore winds. There is now a S wind that has made most open beaches a mess and any waves in southern corners along the points are small.
Into the weekend
S winds will be a prominent feature for most of the weekend. remaining fairly strong for much of it.
Saturday morning looks to have the best winds, lighter and more SW, while the rest of the weekend looks to have stronger winds out of the S/SW.
Strong winds south of Tassie will direct a swell up towards our coast, however most of SE QLD will miss out due to the acute swell direction. Only south swell magnets along the Gold Coast and Sunshine Coast, so exposed northern ends, will see the swell build to 1-2ft by Saturday afternoon and peaking on Sunday around 2ft, the rest of SE QLD will be largely unaffected by the swell as beaches and points remain tiny to flat.
The swell will be larger south of the border as per usual under the S swell direction. It'll be more like 3ft on Saturday afternoon, smaller early morning, and 3-4ft on Sunday morning for N NSW and the Mid N Coast.
The new week
By Monday the S swell will be on the way out as a shorter period S/SE swell becomes the dominant energy.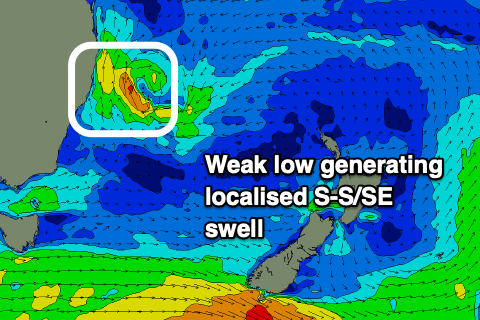 A low forming off the coast on Sunday could intensify and provide a nice little 3-4ft S/SE pulse for late Monday/Tuesday in N NSW. This swell will filter into SE QLD better than the previous S swell but still be small.
Tuesday will see a series of new swells making their way up the coast thanks to strong frontal activity in the Southern Ocean. This longer period S pulse will provide 1-2ft waves on Tuesday across the SE QLd magnets and another similar sized pulse on Wednesday for exposed northern ends of beaches, while the points and beaches remain largely unaffected.
Again, south of the border will see more size, up around the 3ft mark for each of these days.
Winds look to be out of the W/NW early on Tuesday before swinging around to the N so head to beach exposed to the S swell to pick up the most of the new swell and cleaner conditions.
W/NW winds will kick things off again on Wednesday with the second S pulse of swell arriving. Later in the day winds will strength out of the NW in the afternoon. South of the border a weak S change will push into the Mid N Coast, not making it to N NSW where variable sea breezes will create a bit of bump.
Wave heights will ease into Thursday with a just a weak S swell remaining under fresh W/NW winds.
A S change will move in on Friday morning fading and becoming a light and variable sea breeze in the afternoon. A moderate sized S swell will follow the S change thanks to a strong polar front moving through our swell window on Thursday. It's a fair way off though and plenty can happen between now and then.
Tune in on Monday for an updated forecast providing more detail on the S swell late in the week.