Great Long Weekend of surf
South Australian Surf Forecast by Craig Brokensha (issued Friday June 9th)
Best Days: Today protected spots South Coast, Saturday, Sunday, Monday South Coast, Wednesday morning South Coast, afternon Mid Coast, Thursday South Coast
Features of the Forecast (tl;dr)
Large, long-period but inconsistent SW groundswell building tomorrow, peaking late PM with N/NW winds (N/NE-N/NW on the Mid)
Large, easing SW groundswell Sun with N/NE tending N/NW winds (NE tending N on the Mid)
Easing swell Mon with freshening N winds, tending N/NW late
Moderate-large sized W/SW swell filling in Tue with strong W/NW tending W/SW winds
Easing swell Wed with easing, fresh W/NW tending W/SW winds
Smaller Thu with gusty N/NW winds
Recap
Stormy, low quality waves to 3ft on the Mid Coast yesterday, similar today but with a little less wind.
The South Coast was small and choppy yesterday, bigger today but only workable in protected spots with a new mid-period W/SW swell on the build. Winds should hold out of the W-W/NW all day down South as the swell reaches 4ft off Middleton.
This weekend and next week (Jun 10 - 16)
Today's building mid-period energy across the South Coast should hold into early tomorrow morning, while the Mid Coast holds in the 2ft to occasionally 3ft range.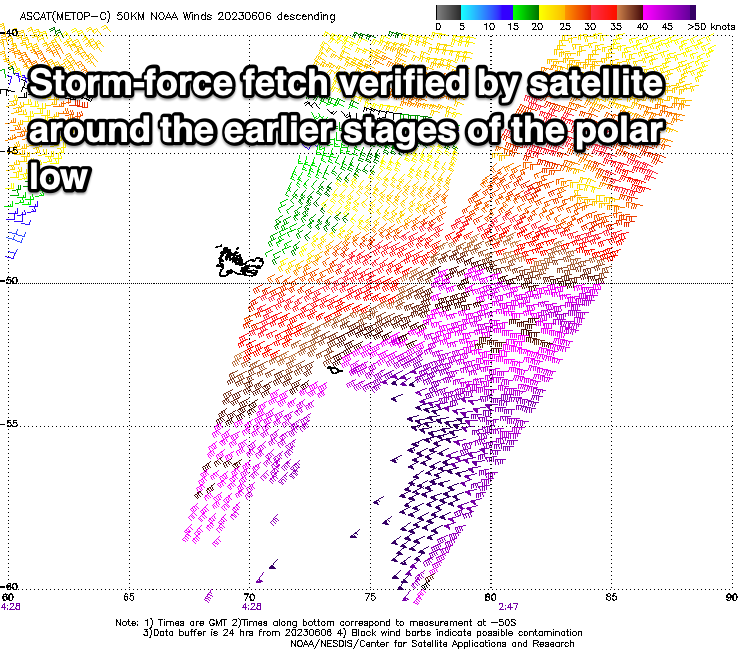 The swell will build rapidly through the day though thanks to the arrival of a long-period, large SW groundswell.
The source of of the groundswell was the initial stages of the frontal system that's generated out current W/SW swell energy, that being a polar low generating a great fetch of severe-gale to storm-force W'ly winds around the Heard Island region. The low maintained gale to severe-gale SW winds while projecting north-east towards Western Australia, and the swell should build strongly through the day tomorrow, reaching 6-8ft into the afternoon down South.
Exposed breaks will see larger sets, with the swell due to start easing through Sunday from 5-6ft off Middleton and 2ft on the Mid Coast.
Conditions will be excellent for the South Coast all weekend, with a moderate N/NW'ly due to persist all day tomorrow with N/NE tending N/NW winds on Sunday.
The Mid Coast will be a little wind affected but still fun with moderate N/NE tending N/NW winds tomorrow and NE tending N winds on Sunday.
Into Monday, the swell will continue to ease, backing off from 3ft+ across Middleton and with freshening N winds, tending N/NW late ahead of a strong but weakening mid-latitude low moving in from the west.
This low will form to the south-west of Western Australia today, with it due to generate a slow moving fetch of strong to sub-gale-force W/SW winds through our western swell window, producing a moderate to large mid-period W/SW swell for Tuesday.
The Mid Coast looks to build to 4ft through Tuesday, mostly 3-4ft, with the South Coast building later Tuesday to 4ft, easing from a similar size Wednesday morning.
Winds will be poor for the Mid Coast and strong from the W/NW tending W-W/SW on Tuesday, with weakening W/NW tending W/SW winds on Wednesday.
Winds look to tend back to the N/NW on Thursday as the W'ly swell fades ahead of another strong frontal progression which looks to bring some good W/SW groundswell for later Friday and next weekend. Winds look to be NW on Saturday and then SW Sunday with this swell but we'll have to review this on Monday. Have a great weekend!