Large, building surf with favourable winds for protected spots
South Australian Surf Forecast by Craig Brokensha (issued Friday May 26th)
Best Days: South Coast this afternoon and every day over the coming period
Features of the Forecast (tl;dr)
Moderate sized SW swell Sat with strengthening W/NW winds
Late pulse of mod-large SW groundswell Sat, peaking Sun AM ahead of a much larger S/SW groundswell building later PM
Gusty W/NW winds Sun
Large S/SW groundswell easing Mon with mod-fresh W/NW tending weaker W/SW winds
Easing swell Tue with W/NW-NW winds, smaller Wed with N/NW winds
Low point in swell Thu with strengthening N winds
Moderate sized S/SW swell Fri with strengthening N/NW tending NW winds
Recap
A slow, bumpy start to yesterday down South, while the afternoon offered some options with a building swell and quality lines. Today is a mess with larger surf and a strong SW breeze. The Mid Coast was weak and sloppy yesterday, only building in size later with today revealing better 2-3ft waves under a workable S/SW breeze. Conditions will deteriorate as winds shift W/SW on the Mid but improve down South for protected spots.
This weekend and next week (May 27 – Jun 2)
The mid-latitude frontal system responsible for today's swell and winds will clear to the east tomorrow, but some slightly stronger period SW swell should maintain decent sets across both locations tomorrow as winds shift W/NW, strengthening through the day.
Middleton should hold in the 3-5ft range with easing sets back from 2-3ft across the Mid Coast, best in protected spots down South with the W/NW breeze.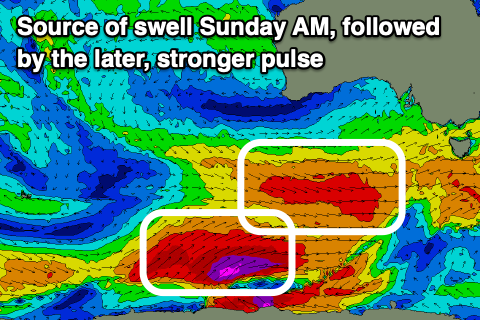 Later in the day some stronger period SW swell may be seen, but Sunday morning is when the groundswell proper is expected to peak, generated by a great fetch of W/NW gales that are currently to the south of Western Australia.
The swell from this system should come in at a stronger 5-6ft off Middleton Sunday morning with the Mid Coast seeing 2ft surf.
Winds will persist out of the W/NW on Sunday, favouring protected spots, ahead of a late, large pulse of significant S/SW groundswell that looks to peak overnight.
As touched on in Wednesday's update, the timing of this much more significant, oversized pulse of S/SW groundswell into the afternoon looks later rather than earlier.
The formation of a severe-gale fetch pushing up on top of the active sea state generated by the pre-frontal W/NW winds is a little slower and in line with what EC was forecasting.
This means we'll see the swell arriving later rather than earlier, with the period front forecast to arrive on the coast mid-afternoon.
The swell front will be defined and strong with 8ft sets more than likely before close of play across exposed breaks, peaking overnight and then easing back from the 8ft range on Monday morning.
The Mid Coast looks to hold 2ft through the same time, easing back on Tuesday from 1-2ft.
Locally winds will be favourable for protected spots Monday down South, W/NW in the morning and shifting weaker W/SW into the afternoon creating a full day of great waves for the experienced.
Tuesday looks excellent as well with W/NW-NW winds and a strong, easing 4-5ft of swell through the morning, smaller Wednesday and with persistent N/NW winds.
Moving into the end of the week and we'll see a strengthening frontal progression firing up under the country Tuesday/Wednesday, with a great fetch of W/SW gales due to generate a moderate sized pulse of S/SW swell for Friday.
It looks like winds will be favourable but strong as a mid-latitude low moving in from the west brings increasing N'ly breezes but we'll have a closer look at this Monday. Have a great weekend!