Mostly clean down South with tons of swell
South Australian Surf Forecast by Craig Brokensha (issued Monday May 22nd)
Best Days: Both coasts today, South Coast tomorrow, Wednesday and Thursday afternoon, South Coast Saturday, Sunday and Monday ahead of the change
Features of the Forecast (tl;dr)
Moderate sized + S/SW swell easing tomorrow, with a reinforcing pulse for later in the day, easing Wed
Mod-fresh N/NW tending NW winds tomorrow, N/NW Wed, strengthening into the PM
Low point in swell Thu ahead of a new S/SW swell into the PM and building windswell on the Mid Coast
Strengthening W/NW-W winds ahead of an evening S/SW change
Moderate sized mix of stormy swells on Fri with strong S/SW-SW winds
Easing swell Sat with NW tending W/NW winds
Moderate sized SW swell Sun ahead of a late increase in new S/SW groundswell, easing Mon
NW winds Sun, fresher NW Mon ahead of a late PM change
Recap
Poor surf across the Mid Coast all weekend, tiny and choppy Saturday, a little better yesterday though not great. The South Coast provided better options Saturday morning with a period of light winds ahead of an onshore change late morning, poor yesterday with a sizey, stormy increase in swell.
Today we've got a mix of mid-period SW swell and stronger S/SW groundswell on the build along with light winds. The Mid Coast is 1-2ft with the South Coast coming in at 4-6ft and winds should hold from the W/NW-SW most of the day, favouring protected spots while being variable on the Mid Coast.
This week and weekend (May 23 - 28)
Tomorrow will be great all day down South with today's increase in S/SW groundswell due to ease slowly through the day, slowed a little later in the afternoon and Wednesday by a moderate sized mid-period S/SW swell.
The reinforcing swell was generated by a trailing front behind the system responsible for yesterday's and today's swell, and size wise, the South Coast should ease back from 4-5ft tomorrow morning, and then 3ft to possibly 4ft Wednesday morning.
The Mid looks to become tiny, easing back from 1-1.5ft.
Winds will be moderate to fresh from the N/NW tending NW tomorrow (N/NE early on the Mid Coast), with N//NW winds holding all day Wednesday, strengthening into the afternoon.
A temporary low point in swell is due on Thursday and an approaching front will see winds shift W/NW and strengthen through the day, tending W'ly late afternoon ahead of a strong evening S/SW change.
A building windswell is due on the Mid Coast through Thursday, reaching a stormy 2-3ft into the afternoon, with some larger mid-period W/SW swell from the earlier stages of the front due to fill in Friday. This should maintain 2-3ft waves on Friday but with those poor winds, easing back Saturday from 2ft to occasionally 3ft.
Down South, a fun new mid-period S/SW swell is due into Thursday afternoon, generated today, south of the country and with the W winds and building sets to 3ft+, Middleton should be OK.
Friday will be stormy and onshore, much, much better Saturday with NW tending W/NW winds and moderate-large sized SW swell to 4-5ft+.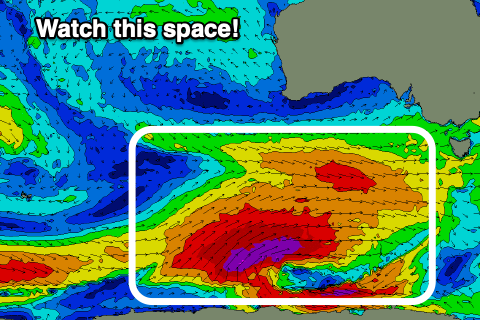 Of greater importance is a much more significant frontal progression forming under the country later week. We're expected to see a broad, elongated fetch of pre-frontal W/NW gale setting up an active sea state for post-frontal severe-gale to storm-force SW winds to project up and over on. This trailing fetch will push up and across Tasmania on the weekend, with a large, long-period S/SW groundswell due to follow.
EC has the system being a touch weaker than GFS but regardless we're looking at strong 6-8ft sets later Sunday and early Monday down South with the Mid Coast coming in 2ft+.
Winds at this stage will be out of the NW on Sunday and NW Monday ahead of late afternoon SW change, but we'll review this size and conditions on Wednesday.