Best on the Mid over the coming days
South Australian Surf Forecast by Craig Brokensha (issued Wednesday April 19th)
Best Days: Mid Coast today, both coasts tomorrow and Friday, South Coast Saturday and Sunday mornings, South Coast Monday and Tuesday, South Coast Wednesday morning
Features of the Forecast (tl;dr)
Moderate sized W/SW swell building Wed, peaking in the PM, easing a touch Thu on the Mid, holding down South
Light E/SE-E/NE winds on the Mid Thu ahead of weak sea breezes, W/NW-NW down South in the AM
Reinforcing W/SW-SW swell for Thu PM, easing Fri
Light, local offshore winds Fri AM ahead of relatively weak sea breezes
Easing surf Sat with local offshore winds ahead of sea breezes
Moderate sized SW swell for Sun easing Mon
Local offshore winds ahead of sea breezes Sun, fresher N/NE-NE on Mon and gusty N/NE Tue
Small-moderate sized W/SW swell for Wed with strong NW tending W/NW winds
Recap
Great conditions with fun surf to 2ft+ across Middleton yesterday, better at exposed breaks before winds shifted more west into the afternoon. The Mid Coast was bumpy and 1-1.5ft mostly, with the odd 2ft'er into the afternoon with the incoming tide.
This morning, conditions are average and choppy down South, semi-clean and best on the Mid Coast with a new swell pulsing to 2ft+. We should see 3ft sets as the tide moves in this afternoon as winds go back to the S/SE later. The South Coast should build to 4ft but with those average winds.
Also check out the upgraded Knights, Goolwa, Middleton, Triggs and U-Turn cameras.
This week and next (Apr 20 - 28)
As touched on in the last update, the coming period is very active with lots of W/SW swell energy due with favourable winds for both the gulf waters and South Coast.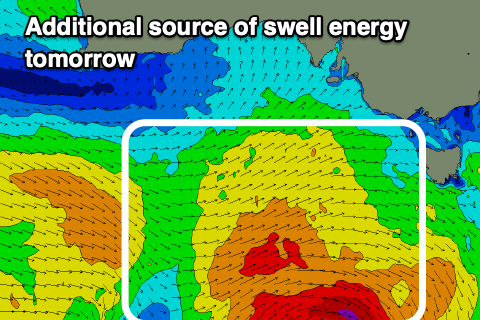 Today's building W/SW swell is expected to ease a touch tomorrow on the Mid Coast, becoming less consistent in size and to 2ft mostly, possibly 3ft with the favourable parts of the tide into the afternoon. The South Coast will see some reinforcing swell maintaining 4ft sets in the morning across Middleton, easing thereafter into Friday from 3ft+.
The reinforcing swell energy has been generated by a slight intensification of strong to near gale-force W/SW winds to our south-west last night.
Winds look light tomorrow morning, tending W/NW-NW down South and E/SE-E/NE early on the Mid Coast, then moderate N'ly through the morning ahead of afternoon, variable breezes. The South Coast will deteriorate as winds shift S/SW-SW (still OK in protected spots).
Into Friday we're looking at a bit less swell on the Mid Coast with 1-2ft waves for the most part and winds look light E/SE ahead of relatively weak sea breezes, light NW down South in the morning.
Saturday looks smaller again and back to a tiny 1-1.5ft on the Mid Coast, with some background mid-period energy maintaining 2ft to occasionally 3ft sets across Middleton under a N/NE offshore ahead of afternoon sea breezes. At dawn the Mid will see more favourable E/NE winds.
Moving into Sunday, a fun pulse of SW groundswell should arrive, generated by a strengthening frontal system dipping east-southeast under the country during Friday.
It'll deepen a little later for us, and EC has it being a little weaker, so check back Friday for one more look at this swell but we should see sets to a stronger 3ft across Middleton while the Mid Coast holds 1ft with 1.5ft sets on the favourable parts of the tide.
Winds look great for both coasts, E/NE during the morning on the Mid and N/NE down South ahead of afternoon sea breezes. Freshening N/NE-NE winds will favour the South Coast on Monday as the swell eases, stronger Tuesday and smaller.
Longer term, besides a small to moderate sized pulse of new W/SW swell later Tuesday/Wednesday, we've got a possible larger swell for late in the week along with westerly winds. More on this Friday.