Good swell for the weekend with an improvement in winds
South Australian Surf Forecast by Craig Brokensha (issued Friday March 31st)
Best Days: South Coast tomorrow, Mid Coast for the keen tomorrow, South Coast Sunday morning, Monday morning, Tuesday morning, South Coast Thursday morning
Features of the Forecast (tl;dr)
Moderate sized + SW groundswell building Fri PM with S/SW winds, peaking tomorrow AM with light E/NE-NE tending weak S/SE-SE winds
Easing surf Sun with moderate E/NE tending S/SE winds
Smaller Mon with N/NE-NE tending SE winds
Fading surf Tue with N/NE-NE tending SE winds
Small S/SW swell Thu with N/NE tending NW winds
Recap
Smaller surf the past two days and best in protected spots down South each morning, 2ft yesterday and 1-2ft this morning. The Mid Coast has been tiny to flat and wind affected.
A strong new SW groundswell due this afternoon has started to build across the South Coast but with a shift to S/SW winds. Still there are options for the keen in protected spots.
This weekend and next week (Apr 1 - 7)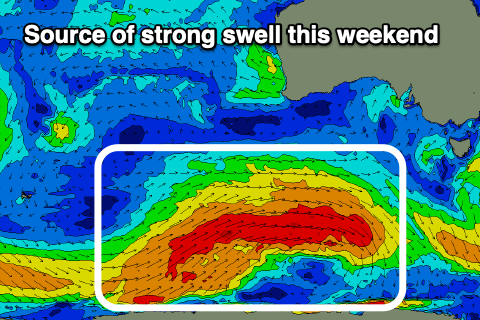 This afternoon's strong kick in SW groundswell will peak during tomorrow morning down South and on the Mid Coast, with it generated by a strong polar frontal progression that formed to the south-southwest of Western Australia on Tuesday. A broad and elongated fetch of gale to severe-gale W/SW winds projected east, weakening as a secondary front pushed up on its tail.
This front has since weakened to our south-west, with trailing weak frontal activity due to produce some small reinforcing mid-period swell for Monday/Tuesday.
We should see strong 4-5ft waves across Middleton tomorrow with the possibility of the rare bigger bomb, with the Mid Coast offering infrequent 1-1.5ft waves working the favourable parts of the tide.
Winds are now expected to be much better tomorrow morning, light and out of the E/NE to possibly even NE, though options will be a little tricky with the swell and wind combo. Sea breezes look relatively weak and out of the S/SE-SE.
Sunday is still looking to offer E/NE winds (possibly NE at times), with the swell starting to ease from 3-5ft across Middleton with 1ft sets on the Mid Coast.
Monday looks cleanest and best with a NE-N/NE offshore and plenty of swell still in the mix down South, easing from the 3ft range across Middleton. Similar winds should develop into Tuesday morning but the swell will be fading from a weak 2ft, best on the magnets.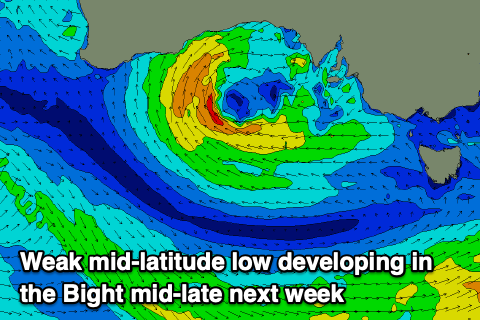 Now, the models are coming into alignment regarding the outlook for the end of the week and beyond and unfortunately it's not great. A deepening mid-latitude low in the Bight will prevent any major swell generating systems from forming in the Southern Ocean, while sitting too far north to generate any meaningful westerly swell for us next weekend.
It looks generally weak, while the South Coast looks to be clean through Thursday and Friday but with a small background S/SW swell to 2ft max.
Once the low pushes east and towards the Tasman Sea it looks like we'll see a stormy increase in S/SE swell with strong S/SE winds but we'll look at this in more detail on Monday. Have a great weekend!