Great spring outlook
South Australian Surf Forecast by Craig Brokensha (issued Friday September 16th)
Best Days: This afternoon South Coast, protected spots South Coast tomorrow and Sunday, both coasts Monday and Tuesday, Thursday, Friday and Saturday both regions
Features of the Forecast (tl;dr)
Large W/SW groundswell and stormy windswell developing today, holding Sat with strong W/NW tending W-W/SW winds
Easing W/SW swell Sun with strengthening NW winds, tending W/NW at times
Smaller Mon with fresh light NW tending SE winds, variable on the Mid (possible light onshore)
Inconsistent SW groundswell Tue with strong but abating N/NE winds
Moderate sized + W/SW swell building Thu, holding Fri with a stronger groundswell Sat
Variable local offshore winds ahead of sea breezes Thu, Fri, Sat
Recap
Building surf and wind across both coasts yesterday though with the westerly angle, the Mid saw the most increase in size while Middleton increase to 2ft, ideal for mals.
Today there's a touch more size across the South Coast but only 2ft out of the wind across Middleton, bigger down the beach but wind affected. The Mid is a choppy mess and will build further in size through the day as winds shift W/NW-W. The South Coast should also increase a little more and reach 3-4ft. Cape du Couedic is solid and over 5m with plenty of swell due to fill in as the day progresses.
This weekend and next week (Sep 17 - 23)
Looking at the outlook for the weekend and the strong, slow moving mid-latitude low that's been pushing east through the Bight will continue on its path, moving across us proper during tomorrow.
The low is still generating plenty of swell and we should see the Mid Coast coming in around a stormy 4ft tomorrow with strong W/NW winds, shifting W/SW-W into the afternoon. Protected spots down South will be the pick and with 3-5ft sets across Middleton-Goolwa.
Come Sunday with the low moving east and another front approaching from the west, we'll see great NW winds down South, strengthening into the afternoon and likely tipping a little W/NW.
The Mid Coast will still be poor and choppy with 3ft surf, dropping back to 2ft to occasionally 3ft on Monday, smaller Tuesday.
The South Coast should also start easing on Sunday from the 4ft range across Middleton, with smaller 2-3ft waves come Monday.
Locally winds look to abate rapidly Monday morning in the wake of a weak front Sunday evening, leaving light NW winds down South ahead of SE sea breezes and variable winds on the Mid Coast. This looks to be the window to hit the Mid Coast before the swell fades.
Later in the day Monday our inconsistent and small W/SW groundswell is still on track, with a peak due Tuesday. This was generated through yesterday by a strong but poorly structured polar low firing up to the north-east of the Heard Island region, with core wind speeds reaching storm-force but over a very small are and aimed mostly towards Western Australia.
Middleton should offer fun 2-3ft sets with the Mid Coast coming in at 1-2ft along with strong but easing N/NE winds.
This will be ahead of a trough and strong S/SW change dawn Wednesday, with this also quickly abating into the afternoon. Some fun reinforcing mid-period W/SW swell is due on Wednesday but we've got our better and bigger pulses of W/SW energy from Thursday through Saturday.
These swells with be generated by a multi-threaded polar frontal progression firing up across the Heard Island region and to the south-west of Western Australia from this weekend into early next week.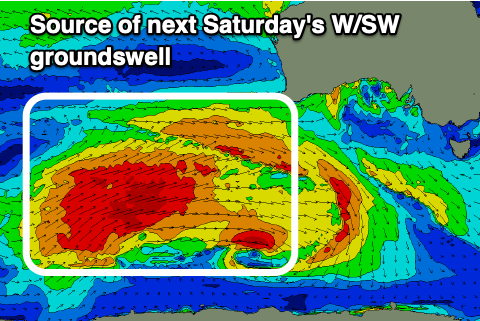 Back to back fetches of gale to near severe-gale-force W/SW and W/NW winds will generate moderate sized levels of swell, building Thursday, strongest and best on Saturday week.
Middleton should reach 3-4ft during Thursday and hold Friday with Saturday likely seeing stronger 4-5ft surf.
The Mid Coast looks to come in around 2ft n Thursday afternoon, more so 2ft+ Friday and then a strong 2-3ft on Saturday.
Winds look favourable for both regions and locally offshore each morning ahead of sea breezes but we'll confirm this on Monday. Have a great weekend!