Solid workable surf for the South Coast, stormy Mid waves later week
South Australian Surf Forecast by Craig Brokensha (issued Monday September 12th)
Best Days: Experienced surfers South Coast today and tomorrow, Mid Coast for the keen later today, South Coast for the keen Wednesday morning, South Coast protected spots Friday through Sunday morning, Monday morning both coasts
Features of the Forecast (tl;dr)
Easing moderate-large S groundswell tomorrow with light N/NE-NE tending fresh E/NE winds
Easing S swell Wed with strong N/NE-NE tending fresh N/NW winds
Building mix of W-NW swells on the Mid Thu with strong N/NW tending NW winds
Large, stormy W/SW swell Fri through Sun with strong W/NW tending W winds Sat, strong W tending W/SW winds Sat and strong W/NW tending weaker SW wind Sun
Easing surf Mon with N winds
Recap
Average surf on Saturday down South withy sloppy conditions but easing winds through the day, cleaner yesterday with the swell hanging in at 2-3ft with a NW offshore.
The Mid Coast was tiny and not great with bumpy conditions Saturday, lumpy yesterday.
Today our large S/SW groundswell is on the build along with bumpy but workable conditions down South while the Mid Coast is clean but on the tiny side of the scale.
Winds will remain light across the South Coast this afternoon as the S/SW groundswell peaks, with late SE winds on the Mid so there should be decent options depending on what your chasing into the evening.
This week and weekend (Sep 13 - 18)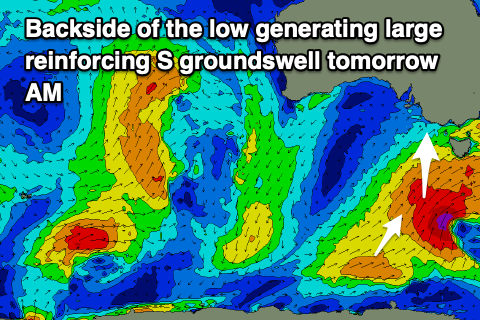 The next couple of days are looking good for the South Coast as this afternoon's peak in S/SW groundswell subsides slowly through tomorrow morning, accelerating into the afternoon ahead of a quick drop Wednesday.
The slow moving polar low linked to our current size was still generating a great fetch of gale to severe-gale S/SW winds to the south-southwest of Tasmania last night, right on the edge of our southern swell window.
This will keep wave heights up around 4-6ft early tomorrow morning across Middleton, easing through the day under a light N/NE-NE breeze. Winds will freshen from the E/NE through the day so try and get a surf in before lunch. The Mid Coast will be clean but tiny and easing back from 1ft or so, ideal for beginners.
An approaching and strengthening mid-latitude low from the west on Wednesday will see winds strengthen from the N/NE on Wednesday, tending N/NW into the afternoon while weakening a touch.
Size wise fading 2-3ft sets are due across Middleton early, tiny and to 1ft later. The exposed beaches should be fun but tricky with the strength of the offshore wind.
Come Thursday the swell will be tiny and bottoming out down South a strengthening N/NW breeze again as the mid-latitude low nears closer. This will kick up a stormy swell on the Mid Coast from the NW, likely reaching 2-3ft by dark but with terrible conditions.
Moving into Friday and a large pulse of W/SW groundswell is due to fill in across the Mid Coast, generated by the mid-latitude low as it passes under WA and through the Bight over the coming days.
The low will be slow moving and quit significant in strength, generating a fetch of strong to gale-force W/SW winds when it develops south of WA tomorrow.
The slow movement and multiple embedded fronts will generate a large, stormy, prolonged and windy W/SW swell from Friday through Sunday across the Mid Coast with the South Coast seeing moderate + sized sets during the same period.
Friday looks to come in at a stormy 4ft on the Mid Coast with strong W/NW tending W winds, 3-4ft on Saturday with strong W tending W/SW winds while weakening a little later.
The low should weaken and start moving east Sunday resulting in a drop in size back from 3ft on the Mid with strong W/NW tending weaker SW winds.
Looking at the South Coast and surf in the 3-5ft range is due across Middleton, smaller in protected spots and with those winds favouring protected breaks. While not overly sizey spots tucked away should be fun.
Monday at this stage looks great for the backside of the swell with winds swinging lighter N'ly, favouring both coasts.
Longer term we've got plenty of follow up action due into next week, with a possible strong groundswell late week. More on this Wednesday. In short a great start to spring.