Windy weekend, large early next week but onshore
South Australian Surf Forecast by Craig Brokensha (issued Friday July 15th)
Best Days: Today down South, keen surfers tomorrow morning South Coast (though windy), keen surfers protected spots South Coast Sunday morning, South Coast Wednesday morning
Features of the Forecast (tl;dr)
Easing mix of W/SW and SW swell tomorrow with strong N/NW tending NW winds
Late pulse of SW swell Sat, peaking Sun AM with strong W/NW tending W/SW winds into the early arvo
Weak S/SW swell Mon with fresh S tending S/SE winds
Large late pulse of S'ly groundswell Mon, peaking Tue AM with mod-fresh E tending E/SE winds
Easing S/SW swell Wed with N/NE tending E/SE winds
Recap
Clean conditions but small and to 2ft across the South Coast yesterday while the Mid Coast continued to offer infrequent 1-2ft sets following the W/SW swell earlier in the week.
Today a new pulse of W/SW and S/SW swell have kept 1-2ft sets hitting the Mid Coast but with bumpy conditions, best down South with an offshore wind and fun 2-3ft sets across Middleton, better on the magnets.
This weekend and next week (Jul 16 - 22)
The mix of swells seen today should ease back through tomorrow and conditions will become tricky with a strengthening N/NW tending NW breeze ahead of a cold front.
This will see deteriorating, choppy conditions on the Mid Coast with a localised N/NW windswell in he mix while the South Coast will be clean but back to a smaller 2ft.
A new pulse of mid-period SW swell for later in the day but more so Sunday is on track, generated by a relatively patchy polar front generating a fetch of strong to gale-force W/SW winds south of the Bight yesterday. This should kick wave heights back to 2-3ft but winds will limit options, strong from the W/SW into the afternoon.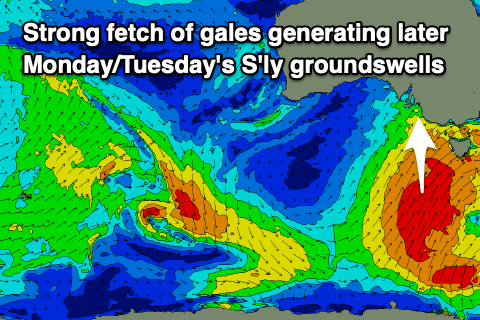 The Mid Coast looks to offer choppy 1-1.5ft waves with no power or quality.
Now, Sunday's change will be attached to a strong polar frontal progression strengthening south-west of Tasmania. This has been upgraded in strength since Wednesday and we should see a fetch of strong to gale-force S/SW winds projected up through our southern swell window on Sunday.
A moderate sized + S'ly groundswell is due from this source on Monday, arriving into the late afternoon/evening, peaking early Tuesday but a strong, slow moving high pushing in from the west will bring fresh S'ly tending S/SE winds on Monday. Size wise the morning looks to be 3ft to possibly 4ft across the South Coast, reaching 4-5ft later in the day, while the Mid Coast will be 1ft owing to the southerly swell direction.
Tuesday should ease back from 4-6ft on the South Coast and winds will shift E'ly, not great at all but slightly better than Monday.
Wednesday onwards looks to be the pick with offshore N/NE winds as the high moves further east, but size wise there'll be no major swell in the water as the high blocks any major storms firing up towards us.
Longer term we've looking at a run of favourable N/NE winds and some distant groundswell later next weekend and into the following week, but check back here Monday for the latest. Have a great weekend!