Fun surf developing late week and on the weekend
South Australian Surf Forecast by Craig Brokensha (issued Wednesday June 22nd)
Best Days: Mid Coast Friday afternoon, South Coast Saturday, later Sunday Mid Coast, both coasts Monday, South Coast Tuesday
Features of the Forecast (tl;dr)
Low point in swell tomorrow with strengthening N/NW winds (N/NE early on the Mid)
Moderate sized + mix of W/SW-SW swells building Fri, holding Sat with a reinforcing pulse later, steadying Sun
Early W/NW tending SW winds down South Fri, moderate W/SW on the Mid
Strengthening W/NW-NW winds Sat
S/SW winds Sun (tending S/SE late on the Mid)
Easing mix of swells Mon with local offshore tending variable winds
Recap
Onshore, average surf across the Mid Coast yesterday, better today though still bumpy with a lingering onshore wind. Still, there are fun 2ft sets for the keen out there. The South Coast was small and clean yesterday, though today looks much more favourable with peaky 2ft sets across Middleton.
This week and weekend (Jun 23 - 26)
Tomorrow looks like a lay day as the current W/SW swell energy eases further in size leaving tiny waves down South with favourable N/NW winds, strengthening through the day. Early N/NE winds are due on the Mid but with tiny 1-1.5ft sets.
We then look forward to the mix of W/SW swell energy due through Friday and the weekend, with an initial strong but distant low in the southern Indian Ocean generating some infrequent W/SW groundswell. This low has since weakened while moving east but we're still seeing a good fetch of strong to gale-force W/SW winds projected towards us, with a strengthening of the progression forecast under the country tomorrow afternoon and evening.
This will produce a consistent, mid-period W/SW-SW swell that will be most evident Friday afternoon and Saturday.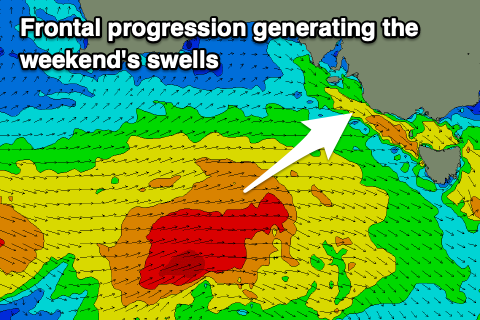 Friday morning looks to come in around 1-2ft on the Mid Coast, quickly building to 2ft+ through the day, holding this size Saturday. The South Coast will see a slower increase in size, likely only 2ft in the morning, reaching 3-4ft by dark but more so 4ft on Saturday.
A shallow W/SW change is expected on Friday (weaker than forecast on Monday) with dawn W/NW winds down South, shifting W/SW-SW mid-morning. The Mid will see moderate winds all day, creating workable waves for the keen.
Saturday looks average on the Mid with a strengthening W/NW-NW breeze owing to another approaching front, with the South Coast performing best, cleanest in protected spots.
We should see a good, reinforcing pulse of W/SW-SW swell later Saturday and Sunday morning from a secondary fetch of strong to gale-force W/SW winds moving through our swell window Friday.
This should maintain 2ft sets on the Mid Coast, 4ft across Middleton but with S/SW winds in the wake of the front moving through overnight Saturday. Winds should tend S/SE on dark across the Mid, creating improving conditions.
Monday still looks to be the day to surf with an easing mix of swells from 2ft across the Mid and 4ft down South, with light E/NE offshore tending variable NW winds in the gulf, N/NE tending NW down South.
Longer term, more mid-period swell is due through next week but with S-SE winds as a high moves in Wednesday. More on this Friday.