Small, weak westerly swells
South Australian Surf Forecast by Craig Brokensha (issued Wednesday June 15th)
Best Days: Keen surfers Mid Coast tomorrow from mid-morning, Wednesday both coasts next week
Features of the Forecast (tl;dr)
Weak mid-period W swell easing tomorrow with variable winds developing on the Mid (moderate W/SW-SW at dawn)
W/NW tending SW winds down South
Tiny Fri with local offshore winds and weak sea breezes
Tiny W swell for Fri PM, easing Sat AM with fresh N/NE winds Sat
Tiny Sun with strong N/NE winds
Building, inconsistent mid-period W swell Mon, peaking Tue/Wed
Strong N tending NW winds Mon, fresh W/SW-SW Tue
Lighter, local offshore winds likely Wed
Recap
Great conditions with smaller surf down South yesterday, best in the morning before winds strengthened, clean again today but with a touch of west in the wind and to 1-2ft across Middleton.
The Mid Coast was tiny with a building N/NW windswell to 1ft yesterday bigger today but choppy and to 2ft.
This week and weekend (Jun 16 – 19)
A weak mid-latitude low is currently moving in from the west, and the weak nature is the reason for the lack of any real strong winds across either region.
We'll see the low continuing east tomorrow allowing winds to abate further, though early it looks like we'll continue to see moderate onshore W/SW-SW winds on the Mid. They should tend variable through the morning and remain light through the afternoon with fun, easing sets from 2ft (mostly 1-2ft). Don't expect any major power or quality but there should be a wave for a grovel.
The South Coast looks to be tiny in size and only 1-1.5ft across the Middleton stretch owing to the weak and westerly nature of the swell, though clean with a W/NW tending SW breeze.
Come Friday the weak W'ly swell will drop further in size leaving tiny surf across both locations with light morning offshore winds and weak, variable sea breezes.
Into Friday afternoon and Saturday morning, a tiny, weak W'ly swell is due, generated by a weak fetch of strong W/NW winds currently to the west-southwest of Western Australia. This looks to keep the Mid Coast in the 1ft range, but hardly impacting Middleton with 1-1.5ft sets due to persist.
N/NE winds will favour the South Coast (NE early on the Mid Saturday morning and evening), stronger into Sunday and then N tending N/NW on Monday as a strong mid-latitude frontal progression approaches from the west.
Some inconsistent and small sized mid-period W'ly swell is expected off this progression, with it not being too favourable at all.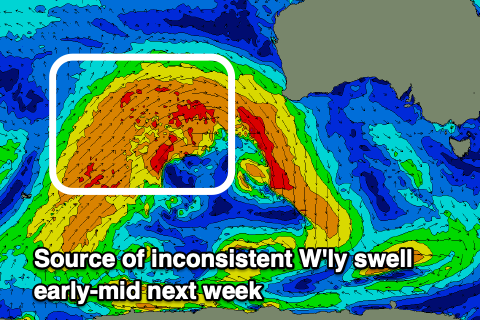 The reason for the lack of size will be due to the strong to gale-force fetch being off-axis fetch and mostly projected up and across Western Australia. We should see a brief burst of similar strength winds just south-west of Margaret River Friday morning, helping produce a little more energy into the mix when the swells arrive early next week.
On Sunday we should see a small pulse of energy though to 1ft, but the best swell from the progression is due to fill in Monday through Wednesday.
The Mid should build to an inconsistent 1-2ft Monday afternoon and hold 2ft Tuesday and Wednesday, with the South Coast only building to 2ft or so later Monday, peaking Tuesday to 2ft+, easing from a similar size Wednesday morning.
Those strengthening winds will create deteriorating, poor conditions across the Mid Coast on Monday, with a W/SW change likely on Tuesday followed by cleaner waves on Wednesday across both coasts. We'll have to review this Friday though as the models diverge regarding the movement and timing of a mid-latitude trough/low moving in from the west early week.