Stormy weekend, poor next week
South Australian Surf Forecast by Craig Brokensha (issued Friday June 3rd)
Best Days: Protected spots South Coast tomorrow and Sunday, stormy spots Sunday
Features of the Forecast (tl;dr)
New mid-period W/SW swell tomorow with strong W/NW tending NW winds (building windswell on the Mid Coast
Moderate sized + stormy swell for the Mid Coast Sunday with W/SW energy for the South Coast with strong NW tending W/NW winds
Mix of windswell and inconsistent SW groundswell Mon with strong W/SW winds
Mix of average swells Tue and Wed with strong SW winds Tue and S/SW winds Wed
S/SW-S winds Thu and Fri with a new pulse of mid-period S'ly swell
Recap
Great conditions yesterday across the South Coast with easing 3ft+ sets across Middleton and all day offshore winds, workable and to 1-1.5ft on the Mid in the morning. Today is tiny across all locations and a lay day with increasing N winds.
This weekend and next week (Jun 4 – 10)
Moving into the weekend we've got stormy surf to develop into Sunday as a strong mid-latitude frontal system projects up and into us while intensifying.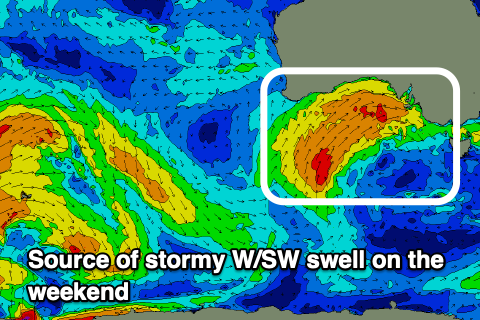 Before this tomorrow though we should see some new, weak mid-period swell kicking sets to 3ft across Middleton with 1-2ft of windswell on the Mid Coast, increasing through the afternoon as winds strengthen from the W/NW tending NW. Try protected spots down South for a surf.
The cold front pushing through into Sunday will kick up stormy 4ft waves on the Mid Coast while the South Coast looks to pulse to the 4ft range as well with the west angle of the swell restricting size especially in protected spots which will be cleanest.
Winds will remain strong on Sunday, shifting from NW to W/NW through the day favouring those protected spots, with Monday seeing a strong W/SW change as we fall under the influence of the backside of the frontal system.
There'll also be some new SW groundswell in the mix, generated by a distant polar low on Wednesday, projecting gale to severe-gale W/SW winds towards us.
This by itself should generate 4ft sets across Middleton but we'll see additional windswell in the mix to a similar size. The Mid Coast will still be an easy 3ft but with those winds conditions will be average to poor across most breaks.
Unfortunately a slow moving node of the Long Wave Trough will continue to project frontal systems up and into us and Victoria through most of next week, bringing no really significantly powerful swell but lots of onshore wind and cold showery weather.
The Mid Coast won't be favourable with this swell direction out of the S/SW and with strong S/SW winds on Tuesday, fresher SW on Wednesday with a mix of swells to 3ft.
S/SW winds look to persist on Thursday and Friday with some new pulses of mid-period S'ly swell but surfing options will be little to none.
Also, while the frontal activity pushes up and into us, a big blocking high to our west will prevent any major storms forming to our west and south-west resulting in small surf when winds finally improve the following week. So all in all not great. Have a great weekend!