Small swells continue with improving winds
South Australian Surf Forecast by Craig Brokensha (issued Wednesday April 6th)
Best Days: Keen surfers Mid Coast Saturday and early Sunday, South Coast Saturday morning and Sunday
Features of the Forecast (tl;dr)
Small to tiny end to the week with gusty S/SE winds Thu, lighter E/NE Fri AM
Inconsistent, mid-period W/SW swell for Sat with N/NE tending SE winds (E/NE tending variable on the Mid), easing Sun with fresh N tending lighter N/NW winds ahead of a late change
Tiny W/SW swell Mon with S/SE winds
Small S swell Mon PM
Easing surf Tue with stronger S/SE winds
Moderate sized mid-period S/SW swell Wed/Thu with fresh S/SE winds
Recap
Our tiny, inconsistent W/SW swell due into yesterday and this morning was just that, 1ft or so and a tease with the rare bigger one on the magnets. It's been great for beginners and a novelty surf with workable winds across the South Coast for the super keen.
This week and weekend (Apr 7 - 10)
The end of the week won't offer much in the way of surfing options with the current small W/SW swell due to ease with less favourable, gusty S/SE winds tomorrow. Light E/NE on Friday morning but with a weak mix of swells to 1-1.5ft across Middleton.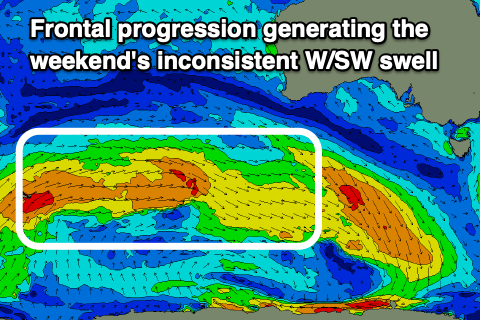 Into the weekend, our more favourable winds and fun, inconsistent mid-period W/SW swell is still on track, with a healthy though distant frontal progression taking place south-west of Western Australia.
A peak is due Saturday, with the size slowly easing through Sunday and the Mid Coast should offer 1-1.5ft surf for the most part with possibly 2ft sets on the magnets Saturday, with the Middleton coming in at 2ft to occasionally 3ft, easing from 2ft Sunday.
A light N/NE breeze is due across the South Coast on Saturday morning ahead of SE sea breezes (E/NE tending variable on the Mid), fresher N tending light N/NW on Sunday ahead of a late change as another trough moves in from the west.
This trough isn't due to bring any meaningful swell with it, but we'll see a brief fetch of W/SW winds in the Bight producing a tiny 1ft of swell for the Mid on Monday. The trough will deepen significantly late in our southern swell window on Sunday, producing a small pulse of S'ly swell for the South Coast as well on Monday afternoon to 2-3ft or so but with freshening S/SE winds in the wake of the trough.
High pressure will build into early next week, bringing stronger S/SE winds on Tuesday and some poor S/SE windswell for the South Coast with no meaningful swell for the Mid Coast.
Active polar frontal activity but without any major strength should bring some new, mid-period S/SW swell mid-late week but with those persistent S/SE winds. So unfortunately the outlook is fairly average besides fun small surf on the South Coast this weekend.
Check back Friday for any increase in storm activity longer term.