A poor start to April
South Australian Surf Forecast by Craig Brokensha (issued Friday April 1st)
Best Days: Desperate surfers Sunday morning South Coast, keen surfers Mid Coast Tuesday
Features of the Forecast (tl;dr)
Fading S/SW swell tomorrow and Sun with fresh E/SE tending S/SE winds Sat, lighter E/NE Sun AM but weak and small to tiny
Weak S/SE windswell tomorrow, fading Sun, tiny Mon
Variable winds Mon AM ahead of sea breezes
Small, inconsistent mid-period W/SW swell Tue with E tending SW winds, back to the SE late
Easing inconsistent W/SW swell Wed with gusty S/SE winds
Recap
Plenty of swell across the South Coast yesterday but ripped apart by strong S/SE winds, smaller today and junkier with a gusty cross-shore wind. The Mid Coast saw tiny 1ft surf yesterday morning with wind affected 1-1.5ft sets into the afternoon. It cleaned up late but was full. Today it's clean but tiny to flat.
This weekend and next week (Apr 2 - 8)
Looking at the synoptic setup responsible for our summer-like winds and lack of quality swell, and a deep, powerful low is currently strengthening off the southern NSW coast, squeezing against a strong high that's slowly muscling in from the Bight, to our west.
This is bringing strong winds from the south-eastern quadrant and with the low due to retrograde to the south-west and west (closer towards Victoria while weakening) through the weekend, it'll continue to bring poor winds tomorrow, improving Sunday.
A gusty E/SE breeze will persist tomorrow along with a poor mix of easing, mid-period S/SW swell and S/SE windswell. Junky 2-3ft waves are due across Middleton, flat on the Mid with Sunday seeing smaller, weak, easing 2ft sets across Middleton.
Winds will ease and tend lighter E/NE on Sunday morning but conditions will still be peaky and lumpy, only for the keen.
Monday looks the cleanest with a variable breeze but size wise, there'll be nothing left in the tank with 1ft surf across Middleton for beginners.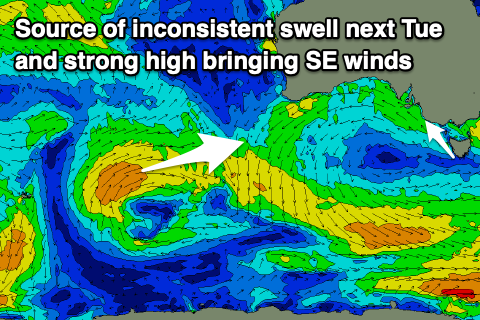 As touched on in the previous updates, the strength, breadth and size of the strong high moving in from the Bight will put a block across our main swell windows resulting in no significant swells into next week.
The Mid Coast should see a slight bump in tiny and very inconsistent, mid-period W/SW on Tuesday and Wednesday. This has and is still being generated by a relatively weak but persistent though distant mid-latitude frontal progression south-west of Western Australia.
Fetches of strong W/SW winds are being generated and we should see 1-1.5ft surf through Tuesday on the favourable parts of the tide, with Middleton building to 2ft+, easing from 2ft on Wednesday morning.
A trough moving in from the west should bring E'ly offshore winds, giving into afternoon sea breezes and back to the SE later in the day Tuesday. Wednesday and Thursday will then see a return to S/SE-SE winds as a new high pressure system slides in from the west.
Longer term there's still nothing major due into the end of the week or next weekend, but hopefully a bit more action into the following week. More on this Monday. Have a great weekend and Carn the Crows!