Good swell to end off the week
South Australian Surf Forecast by Craig Brokensha (issued Monday March 14th)
Best Days: This morning South Coast, Mid Coast Friday and Saturday (beginners Sunday morning), South Coast Saturday morning and possibly Sunday morning, South Coast Monday morning
Features of the Forecast (tl;dr)
Moderate sized + W/SW sweell building Fri with moderate SE tending fresher S/SE winds, easing Sat with E tending weak SW winds (E/NE-NE down South in the AM)
Reinforcing W/SW groundswell Sun with variable winds, tending SW, easing Mon with variable tending S/SE winds
Moderate sized W/SW groundswell building Tue PM with W/SW winds, easing Wed with persistent SW winds
Recap
Great conditions and fun waves across the South Coast yesterday and this morning with a bump in S/SW swell to 2-3ft yesterday, smaller and back to 2ft on the sets across Middleton this morning. The Mid Coast has been clean but effectively flat.
This week and weekend (Mar 15 - 20)
Tomorrow will be a lay day as the current swell fades, leaving tiny leftovers down South with early variable winds ahead of a S'ly change that will freshen into the evening as a trough pushes in from the west.
Winds should swing around to the SE on Friday morning (S/SE South Coast) and strengthen from the S/SE through the day as a ridge of high pressure slides in from the west behind the trough.
This will be as a new moderate sized + W/SW swell builds, generated by a healthy mid-latitude frontal progression that's currently pushing up and under Western Australia.
Compared to Monday's forecast, the progression has got ahead of itself slightly, drawing out in length but as a result, weakening in overall strength.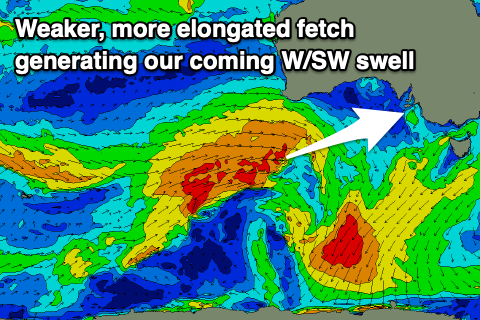 This will see a fetch of strong to near gale-force fetch of W/SW winds projected through our western swell window, weakening while dipping south-east tomorrow and breaking down instead of forming a stronger polar low.
All in all this equals a slight downgrade in the expected size but we're still looking at super fun waves across the Mid Coast.
The swell is still due to build through Friday, peaking into the afternoon with the morning coming at at 2ft on the sets with the afternoon tide providing 2-3ft sets as it peaks. The South Coast looks to only build into the afternoon, reaching 3ft+ across Middleton, easing from a similar size on Saturday morning.
The Mid Coast will also ease from 2ft+ on Saturday morning, holding 2ft on the sets into the afternoon with the tide and winds will improve for the South Coast, shifting E/NE-NE during the morning, E'ly offshore on the Mid. Afternoon sea breezes look weak on the Mid and moderate to fresh down South.
Our smaller, reinforcing W/SW groundswell for Sunday is still on track, generated by a stronger, trailing low, but with a disjointed fetch of W/NW gales followed by W/SW gales. This should maintain inconsistent 3ft sets across Middleton on Sunday with 1-1.5ft sets on the Mid Coast. Winds are funky and tricky as another weak trough approaches from the west with early light SE winds on the Mid, shifting W/SW and light SW winds down South, increasing from the S'th.
With the trough being so weak winds will become variable into Monday morning again, shifting light offshore as Sunday's swell slowly eases.
Longer term a series of strengthening mid-latitude systems are due to move in through early-mid next week, bringing a new moderate sized W/SW groundswell for Tuesday afternoon and Wednesday but with onshore winds. More on this in Friday's and next week's updates.