Plenty of W/SW swells to come but with cold/wet weather
South Australian Surf Forecast by Craig Brokensha (issued Monday October 11th)
Best Days: South Coast magnets tomorrow, South Coast on dark Wednesday, South Coast Thursday morning, Mid Coast for the desperate early Saturday, Sunday morning South Coast, Tuesday South Coast
Features of the Forecast (tl;dr)
Easing mix of W/SW swells tomorrow with fresh N/NE tending NE winds, then N/NW later while easing
Building W/SW groundswell mid-late Wed PM with strong NW winds
Peak in W/SW groundswells Thu with strong N/NW tending W/NW winds ahead of a late S/SW change
Easing W/SW swells Fri with a S/SW windswell on the South Coast with strong SW winds
Inconsistent SW groundswell Sat with S'ly winds, S/SE early on the Mid with easing W/SW swell
Easing surf Sun with N/NE tending SE winds, smaller Mon with similar winds
Moderate sized S/SW groundswell Tue with N/NE winds
Recap
Friday's fun pulse of W/SW swell held in better than expected on the Mid Coast Saturday with early 1-2ft sets and clean conditions, small and fun down South with 2ft sets across Middleton, clean ahead of an onshore change.
Into yesterday a new mix of W/SW groundswell and mid-period W/SW swell filled in with clean, fun 1-2ft waves again on the Mid Coast, kicking through the afternoon to 2ft to occasionally 3ft with the peak in swell as winds improved late in the day.
Today the swell has eased back to 1-2ft with nice clean conditions, dropping further in size and consistency with the outgoing tide and the South Coast was cleaner but still a bit lumpy with surf to a peaky 2-3ft across Middleton.
This week and weekend (Oct 12 - 17)
We've got a tricky and dynamic week of waves and weather ahead, cold and wet into the later stages.
Firstly, looking at tomorrow and we'll see the surf ease further from today, leaving small 2ft sets across Middleton, tiny on the Mid Coast and with favourable though fresh N/NE tending NE winds, swinging to the N/NW late afternoon while easing in strength.
A temporary low point in swell is due Wednesday morning and winds will strengthen from the NW, holding all day as a mid-latitude low forms in the Bight and stalls slightly. This persistent wind will kick up a weak NW windswell for the gulf, but of greater importance is a moderate sized W/SW groundswell due into afternoon, followed by a secondary pulse on Thursday.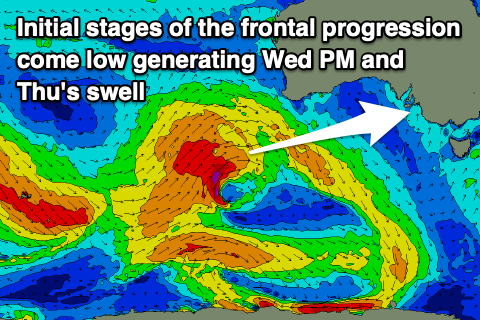 This groundswell is currently being generated by a strong frontal system that's projecting towards Western Australia, that will eventually turn into the mid-latitude low tomorrow evening.
This frontal system formed north-east of the Heard Island region on the weekend and has been projecting a great fetch of W/SW gales through our western swell window. It's currently clipping the south-west of Western Australia and will continue to project strong to gale-force W/SW winds towards us this evening and tomorrow morning.
This will generate a moderate sized + W/SW groundswell which is due to build strongly Wednesday afternoon but with that NW breeze.
As the low forms tomorrow evening, we'll see an additional fetch of tight W/SW gales wrapping around and projecting towards us through Wednesday, producing a reinforcing pulse of W/SW swell for Thursday, easing Friday.
Size wise, the Mid Coast should build from 1ft Wednesday morning to 2-3ft late in the day, though peaking Thursday in that 3ft range, easing back from 2-3ft on Friday.
The South Coast will be tiny Wednesday morning but kick later in the day towards 2-3ft, with Thursday revealing 3-4ft sets across the Middleton stretch, smallest at Middleton and biggest towards Goolwa. The secondary pulse of reinforcing W/SW groundswell looks to be generated a touch too north, and blocked by Kangaroo Island, with the size easing Friday from the 3ft range.
Now, local winds are tricky on Thursday as the low moves across us, bringing strong N/NW tending W/NW-W winds across all locations, ahead of an evening S/SW change. If the low changes its position at all we may see more variable breezes at stages but we'll have one closer look at this on Wednesday. This low will also bring plenty of wet/cold weather.
Unfortunately the slow movement of the low will see strong SW winds persisting through Friday, creating poor conditions across both coasts with the easing swell. The South Coast looks to see some additional S/SW windswell in the mix, providing stormy 4ft surf.
Cleaner conditions should develop on the Mid Coast Saturday with a morning S/SE breeze but the swell will be all but gone, easing from 1-2ft, bumpy and average down South.
A new, inconsistent SW groundswell should be in the mix down South, generated by a strong polar low firing up east of the Heard Island region over the coming days. This should keep Middleton around 3ft to occasionally 4ft, easing Sunday from the 3ft range under morning N/NE offshore winds, smaller Monday but clean again under N/NE winds.
Longer term, a good new S/SW groundswell is due next Tuesday and with favourable N/NE winds, but we'll have a closer look at this Wednesday and Friday.