One more decent swell to come
South Australian Surf Forecast by Craig Brokensha (issued Friday September 24th)
Best Days: Mid Coast for the keen tomorrow morning, South Coast Sunday morning, Monday morning, Tuesday morning and Wednesday morning
Features of the Forecast (tl;dr)
Mod-large SW swell for tomorrow morning with fresh S'ly winds, easing and tending S/SE. Light-mod SE-S/SE winds on the Mid, increasing through the day from the S/SW then back to the SE late
Easing S/SW swell Sun with moderate NE tending fresh E/SE winds
Smaller Mon with fresh NE-N/NE tending E/SE winds
Small, mid-period swell for Tue/Wed with fresh-strong NE winds (N/NE at times through the morning), light N/NW tending W/SW Wed
Recap
Great waves down South yesterday with clean conditions and a building S/SW groundswell from 3-4ft in the morning to a stronger 4-5ft through the afternoon as winds swung more favourable for protected spots. Early this morning conditions were calm and clean with the surf still coming in at 4ft, but a change has since moved through.
The Mid Coast was tiny and full yesterday morning as well as bumpy but we saw a fun kick in size through the afternoon to 1-1.5ft with lighter winds. This has dropped today and conditions have deteriorated with the change moving through.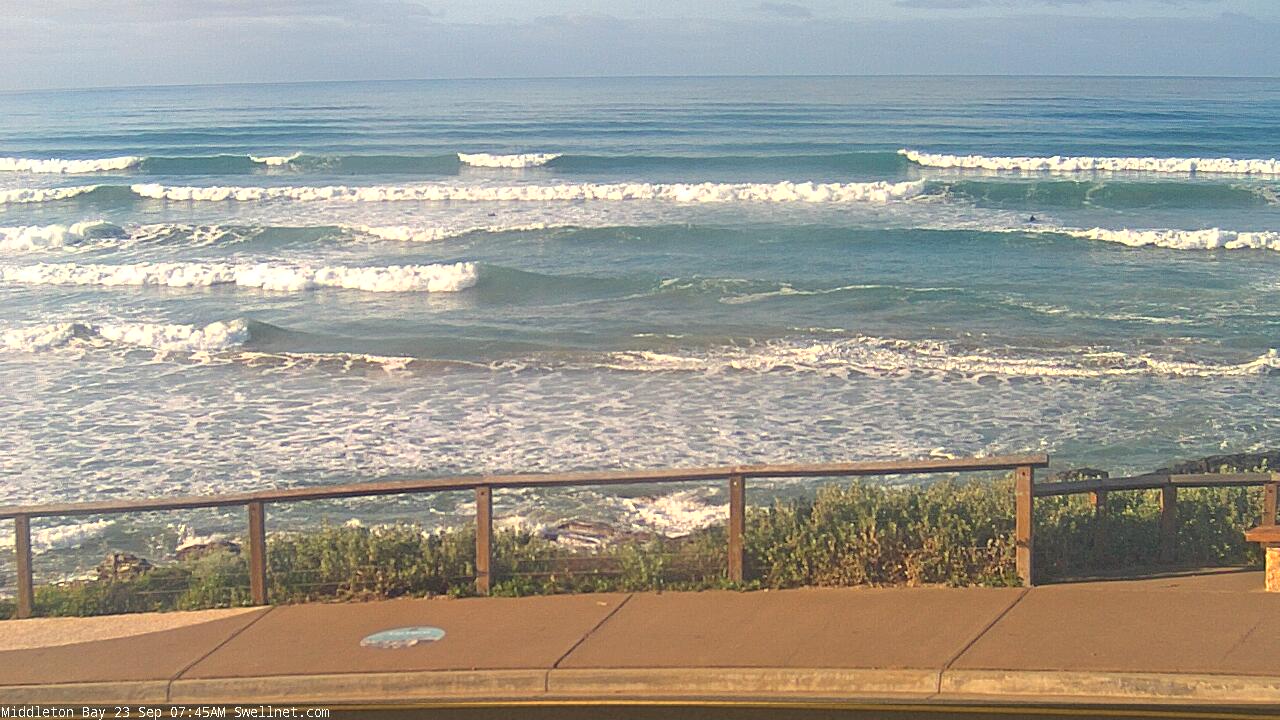 This weekend and next week (Sep 25 – Oct 1)
Well, we've got one more sizey swell to come tomorrow, but it won't be anywhere near as clean as what we've seen the last couple of days.
The source of this swell is a strengthening low on the back of all the polar activity this week, with a fetch of gale to severe-gale W/SW winds being projected up through our south-western window today (shown below right), bringing the local, strong SW change in winds.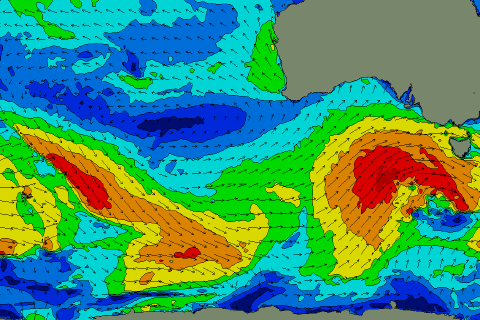 Later today some mid-period swell is likely to build across both coasts, with the groundswell peaking tomorrow to 4-6ft across the Middleton stretch and deepwater reefs, easing through the day. The Mid Coast looks to be 1-2ft on the favourable parts of the tide.
Winds in the wake of today's change will swing quickly to the S/SE as a high moves in from the west. The Mid looks to see light to moderate S/SE-SE winds (ahead of sea breezes), with the South Coast offering fresh S'ly tending S/SE winds while easing.
Sunday looks much better for a surf down South with winds swinging around to the NE, moderate in strength along with easing surf from 3-4ft across Middleton. The afternoon will become bumpy with a fresh E/SE breeze and the The Mid will be clean though tiny.
Smaller surf is due Monday but winds will swing more N/NE-NE and freshen as a mid-latitude low forms off the Western Australian South Coast, pushing the high further east. The afternoon will be wind affected again with E/SE breezes.
Size wise Middleton looks to be back to a smaller 2ft+ or so, best on the swell magnets.
Our inconsistent, mid-period S/SW swell for Tuesday is on track, providing small, reinforcing sets to 2ft across Middleton. It'll be generated by a weaker polar frontal progression on the weekend south-southwest of WA (pictured above), with similar sized sets due to hold into Wednesday morning.
The mid-latitude low will push in closer to us though bringing strong NE winds Tuesday (tending N/NE at times through the morning) and then light N/NW tending W/SW Wednesday as the low moves across us.
Now, swell wise this mid-latitude low doesn't look to generate anything for the Mid Coast anymore with it sitting too far north and generating swell more aimed to the west.
Come Thursday the South Coast is likely to see early W/NW winds and a new, small S/SW swell but only to 2-3ft or so. The low will continue clearing east bringing SW winds and then more variable breezes next Friday morning.
Unfortunately the surf and swell outlook will slow into next weekend and beyond as everything goes fairly quiet after quite an active run of weather and surf. More on this Monday. Have a great weekend!