Tricky winds but lots of swell to come
South Australian Surf Forecast by Craig Brokensha (issued Monday September 20th)
Best Days: Mid Coast tomorrow morning, Mid Coast for the keen early Wednesday, South Coast Wednesday morning and late afternoon, Thursday South Coast and dawn Friday
Features of the Forecast (tl;dr)
Large, easing SW groundswell tomorrow with strong S/SW winds down South, abating through the day, S/SE early on the Mid, shifting S/SW late morning
Easing SW groundswell Wed with W/NW tending W/SW-SW winds, then W/NW late again. Early variable winds possible on the Mid
Moderate sized S/SW groundswell building Thu, peaking later with moderate NW tending W/NW winds
Easing S/SW groundswell Fri with dawn NW winds, giving into a strong W/SW change shortly after
Moderate sized SW swell Sat with S/SW winds (S/SE early on the Mid)
Recap
Saturday's inconsistent SW groundswell was from a distant and slightly flukey source, but it didn't offer any real increase in size at all across the South Coast unfortunately, while the Mid Coast saw a localised mix of windswell and mid-period energy with choppy, 2-3ft waves.
Sunday saw a drop in size back to a choppy 2ft on the Mid Coast, while the South Coast offered a bit more size as the SW component of the swell from a low moving in Friday/Saturday filled in, coming in at 3-4ft across Middleton, though wind affected.
Today we've got some fresh, building swell ahead of a larger groundswell arriving into the evening, with wind affected 4ft surf across Middleton, choppy and 2-3ft on the Mid Coast.
This week and weekend (Sep 21 - 26)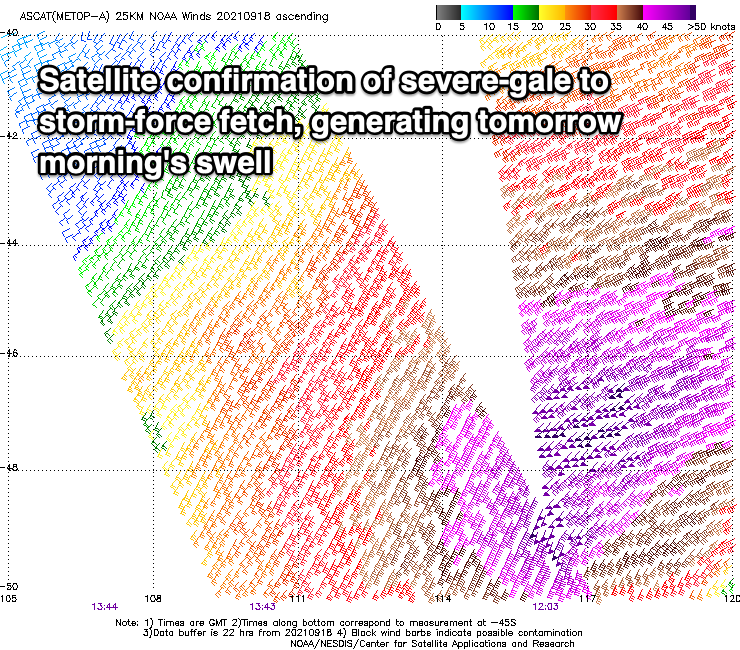 The weekend's mid-period W/SW swell was generated by the first of two lows firing up under the country late last week and over the weekend. Today's building mid-period W/SW and SW energy ahead of some stronger groundswell tomorrow morning are linked to the second low.
This second low formed a little further south compared to the first, projecting mainly through our south-western swell window. With this low acting on top of the active sea state of the low before it, it requires less energy to kick up a larger open ocean sea state. So with a fetch of severe-gale W/SW winds (reaching storm-force at times) projected towards us through the weekend, weakening on approach today, we'll see a large SW groundswell arriving just after dark tonight, easing through tomorrow.
Ahead of this this afternoon though, we'll see moderate-large mid-period energy arriving from the weakening low projecting SW gales up and into us today. The Mid Coast should kick to a more solid 3ft range, with 5-6ft waves developing down South but with poor conditions under strong SW winds (S/SW on the Mid).
Tomorrow's groundswell will keep large 6ft surf hitting the South Coast with more power and energy, easing through the day while the Mid Coast should ease back from 2-3ft.
Winds will improve for the Mid Coast tomorrow with a moderate S/SE breeze due through the morning, shifting back to the S/SW late morning. The South Coast will unfortunately be poor with strong dawn S/SW winds, abating slowly through the day.
The size will ease back further into Wednesday and winds should tip back to the W/NW down South through the morning, shifting W/SW-SW early afternoon but then possibly back to the W/NW through the mid-late afternoon as a frontal system approaches. Middleton looks to ease back from 3-4ft in the morning, while the Mid Coast looks to ease from 1-2ft with a lingering SW breeze. There's an outside chance for variable winds, so keep an eye on the local observations.
Moving into the end of the week, and we've got our moderate sized, S/SW groundswell due across the South Coast, generated by a significant polar frontal progression firing up to the south-southwest of Western Australia.
An initial fetch of W/NW gales today will prime the Southern Ocean for a stronger fetch of severe-gale W/NW winds to move in and over, with bursts of storm-force winds likely into tomorrow evening, south of us.
Now, while not ideally aimed, the breadth and length of these fetches will see good levels of swell spreading out radially up towards us, building Thursday, peaking later in the day and then easing Friday.
Middleton should build from the 3ft+ range Thursday morning, to 4-5ft into the late afternoon (tiny on the Mid to 0.5-1ft), with Friday easing from a similar size.
Winds look best Thursday with a moderate NW tending W/NW breeze, while Friday will see a change moving through with dawn NW'ly shifting strong W/SW by mid-morning.
This change in winds will be linked to a strengthening frontal system firing up on the tail of the progression moving through this week, with a great fetch of strengthen W/SW-SW gales due to be projected up towards Victoria and across Tasmania.
This should produce a moderate sized SW swell for Saturday but a high moving in from the west looks to bring fresh S/SW winds. The Mid looks to see early S/SE winds but the swell will be only 1ft to maybe 2ft. More on this swell and conditions in the coming updates.