Slower week ahead of a windy, bigger weekend
South Australian Surf Forecast by Craig Brokensha (issued Monday September 13th)
Best Days: South Coast tomorrow morning, protected spots on the South Coast Saturday, both coasts Sunday (bumpy and wind affected on the Mid), protected spots down South Monday morning
Features of the Forecast (tl;dr)
Easing mix of swells tomorrow with early offshore winds and afternoon sea breezes
Small, background SW groundswell Wed and Thu with NE tending fresh SE winds
Small background mid-period swell Fri with strengthening N/NE-NE tending NW winds
Better, inconsistent SW groundswell Sat with strong W/NW winds
Mod-large W/SW swells building Sat (mainly Mid Coast), easing Sun with fresh NW winds
Easing surf Mon with strong W/NW tending W/SW winds
Recap
Friday afternoon's fun pulse of swell dropped back in size through Saturday leaving bumpy 1-1.5ft waves on the Mid Coast, while the South Coast was better with clean 2-3ft waves in semi-protected spots.
An approaching low brought strengthening winds into the afternoon and stormy 2-3ft waves on the Mid Coast yesterday morning, reaching a more solid 3ft through the day, The South Coast was clean early and holding 2-3ft before the change pushed through along with larger, building surf into the afternoon.
Today we've got improving weather and winds in the wake of the weakening low/trough, coming in at a bumpy 2ft on the Mid Coast and a chunky 4ft across the South Coast. Winds have since shifted more onshore across the Mid, creating bumpy conditions but we should see them go back S/SE into the evening.
This week and weekend (Sep 14 - 19)
Currently in the water we've got a mix of mid-period S/SW swell and SW groundswell, with both due to ease this afternoon, dropping further in size through tomorrow as winds improve down South.
A slow moving high will start to edge in from the west, bringing variable tending light N/NE winds across the South Coast, shifting E/NE through the morning before SE sea breezes kick in. The Mid will also be clean before sea breezes kick in.
Size wise, the Mid will become tiny, dropping from 1ft or so, with better 3ft sets down South across Middleton, easing further through the day.
A low point in swell is due Wednesday/Thursday with morning NE winds on the South Coast (fresh SE into the afternoon). Inconsistent levels of background swell should keep Middleton around 2ft, with slightly bigger waves on the swell magnets, tiny on the Mid Coast. The possible S/SW groundswell for Wednesday afternoon generated by a late forming polar low in our swell window, will be just that, forming too far east and late in our swell window to produce any surf for us.
Thursday morning looks a similar size (2ft Middleton), easing through the day along with fresh NE tending E winds.
Into Friday and more so Saturday, some better, inconsistent SW swell from a broad though distant polar frontal progression that's currently around and just east of the Heard Island region is due to fill in.
Friday's swell will be smallest and mid-period, coming in at an inconsistent 2ft across the Middleton stretch (tiny on the Mid). Winds will start to strengthen from the N/NE-NE on Friday, shifting NW into the afternoon as a strong, slow moving mid-latitude low starts to push in from the west.
On Saturday, the strongest pulse of SW groundswell from the distant frontal progression is due to fill in, providing better 3ft sets across Middleton as winds strengthen from the W/NW as the mid-latitude low pushes in and across us.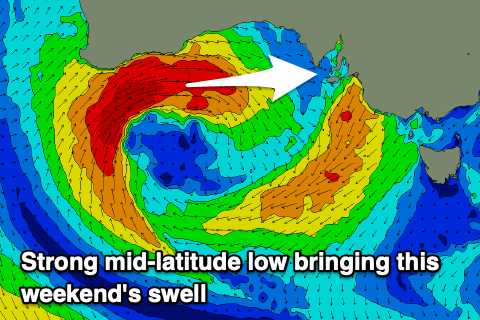 The Mid Coast will see a building mix of mid-period and groundswell from the W/SW on Saturday, generated by the low as it fires up under the Western Australian coast Thursday evening. A fetch of gale to severe-gale W/SW winds will be generated in the Mid's swell window, broadening while weakening and moving further east and into us Saturday.
The swells looks to build rapidly Saturday to an easy 3ft on the Mid Coast into the afternoon but with that strong onshore W/NW breeze, easing from 3ft Sunday with fresh NW winds. While not ideal there'll be a few waves to get amongst for the keen. The South Coast should see the W/SW swell energy coming in at 3-5ft Sunday morning across Middleton and with that offshore NW wind.
Next week onwards (Sep 20 onwards)
We're likely to see the surf easing from Sunday into next week, but the mid-latitude low will drag up a flurry of impressive and significant frontal activity behind it. This looks to bring a moderate to large run of swell next week with winds out of the western quadrant (north-west to south-west) but we'll have a closer look at this in the coming updates.