Large, easing swell with warm, strong winds tomorrow
South Australian Surf Forecast by Craig Brokensha (issued Wednesday September 1st)
Best Days: Today both coasts, South Coast tomorrow (possibly late on the Mid), Mid Coast Friday morning for the keen, protected spots down South, early Sunday on the Mid Coast, Wednesday next week
Features of the Forecast (tl;dr)
Large W/SW groundswell arriving later this afternoon, easing tomorrow with a reinforcing pulse for the PM, slowing the easing trend. Strong N/NE tending N/NW winds (possibly variable on dark on the Mid ahead of a change)
Easing W/SW groundswel Fri with moderate W/NW winds, strengthening into the PM (possibly light for a few hours on the Mid)
Reinforcing W/SW groundswell for Sat PM with fresh to strong S/SW winds, easing Sun with fresh S/SW winds (S/SE early on the Mid)
Small Mon with SW winds
Large mix of SW and S/SW groundswells Tue with S tending SE winds, easing Wed with N-N/NW winds
Recap
Bumpy 1-1.5ft surf across the Mid Coast yesterday morning with a slightly smaller W/SW groundswell and N'ly winds. The South Coast was a fun, inconsistent 2ft across Middleton while into the afternoon, some new W/SW swell started to show across both regions. The Mid pushed to 2ft on the sets with 2-3ft waves across Middleton later with gusty NW winds.
This morning we've got pumping waves on the Mid Coast with clean, glassy 2-3ft sets on the swell magnets owing to the arrival of a moderate to large, mid-period W/SW swell. The South Coast was also clean and 3-4ft and we should see more size this afternoon as a stronger pulse of W/SW groundswell fills in.
The Mid Coast should see stronger, more consistent 3ft sets this afternoon with 4-6ft set developing across the Middleton stretch as winds will go variable down South, NW on the Mid but without much strength and shifting N/NE into the evening again.
This week and next (Sep 2 - 10)
The kick in size seen across the state this morning is moderate-large sized, mid-period energy, generated by the initial stages of a strong frontal progression firing up and under Western Australia on the weekend and earlier this week.
Into this afternoon we should see a larger, stronger W/SW groundswell filling in generated by the strongest part of the frontal progression, that being severe-gales under Western Australia on Monday afternoon/evening.
This should provide larger 4-6ft sets across the Middleton stretch with 3ft surf on the Mid Coast along with those favourable winds outlined in the recap.
This swell is due to ease into tomorrow, slowed through the day by a reinforcing W/SW groundswell, generated by gale to severe-gale W/NW winds tracking east-southeast under Western Australia last night.
We should see 3ft sets continuing across the Mid Coast tomorrow morning, easing once the tide starts running out, with the South Coast easing from 4-5ft across Middleton, though only slightly.
Winds will become less favourable for the Mid Coast and strong N/NE tending N/NW, similar down South, favouring selected spots through the day. There might be a variable patch of winds early evening around dark and ahead of a S/SW change, so keep an eye out for this on the Mid Coast (it might only come on dark though).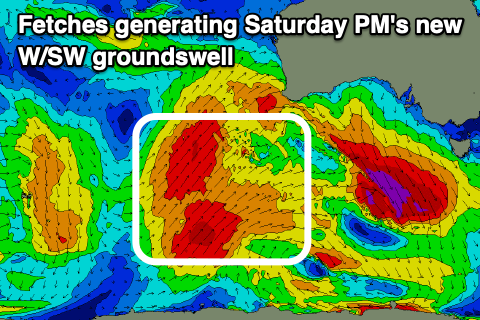 Come Friday, winds look to revert back to the W/NW down South with the swell easing further from 3-4ft across Middleton, while the Mid Coast will be back to 2ft with lighter, more variable W winds creating OK conditions for the keen. Winds will strengthen into the afternoon from the W/NW-W ahead of an approaching trough.
This trough will move through early Saturday morning, bringing poor and strong S/SW winds to both regions, weaker Sunday but persisting.
This will spoil a new W/SW groundswell that's due to fill in Saturday afternoon, generated by the final frontal system in the current progression. This being a polar front projecting up and towards Western Australia today. A fetch of SW gales will be generated through our western swell window, weakening once pushing under Western Australia and into the Bight late week.
The swell should kick back to 2ft across the Mid Coast late afternoon with smaller 1-1.5ft sets for the morning, while the South Coast should build to 3-4ft across Middleton. With the cross-shore S/SW winds, the Mid looks the pick, and Sunday morning should see an early S/SE breeze on the Mid and easing 2ft sets.
Moving into early next week and Monday looks to be a lay day with SW winds across both locations and a further decrease in size, but come Tuesday, a strong new SW groundswell is due to fill in.
The source of this swell will be a strong polar low firing up east of the Heard Island region tomorrow evening, tracking slowly east under the country on the weekend while generating severe-gale W'ly winds. At this stage a secondary strong low spawning off the back of the polar system may generate an additional close-range S/SW swell to the mix, but either way we're looking at 4-6ft waves across Middleton, 1-1.5ft on the Mid and with S tending SE winds, much better Wednesday as winds shift N-N/NW ahead of another approaching front.
We'll look over this again Friday.