Good run of westerly swell from Sunday, large next week
South Australian Surf Forecast by Craig Brokensha (issued Friday August 27th)
Best Days: Keen surfers dawn tomorrow on the South Coast magnets, Mid Coast Sunday afternoon and dawn Monday, South Coast Monday, selected spots Wednesday and Thursday
Features of the Forecast (tl;dr)
Fading surf tomorrow with moderate N/NE tending stronger N/NW winds, possibly easing late
Good mid-period W/SW swell filling in Sun with varying winds. Mod-fresh W/SW change after dawn on the Mid, then easing and tending lighter NW-W/NW into the PM, W/NW tending W/SW down South and back to the W/NW late
Inconsistent W/SW groundswell Mon with strong N/NW winds (N/NE early on the Mid)
Slightly smaller W/SW groundswell Tue with fresh N/NW tending NW winds
Large W/SW groundswell filling in Wed, easing Thu with fresh and gusty N/NE winds
Recap
Lumpy though solid waves across the South Coast yesterday with a new S/SW groundswell and surf mostly to 4ft off Middleton, 1ft on the Mid but pulsing to 1.5ft+ into the afternoon with the push of the tide.
Today we've got great conditions down South and still 3ft of swell across Middleton, clean and tiny to flat on the Mid. The swell will continue to ease through the day down South as winds remain favourable.
This weekend and next week (Aug 28 – Sep 3)
If looking for a wave tomorrow morning, hit it early as we'll see the swell from the last couple of days continuing to drop in size, fading from a small 1-2ft across Middleton, with Waits and Parsns only due to be 2ft+ or so.
Conditions will be clean with a strengthening N'ly (moderate N/NE at dawn), shifting N/NW and then tending variable late, but with tiny amounts of swell.
Looking at Sunday and the South Coast will start tiny, but the Mid Coast should see some new mid-period W/SW swell filling in, generated by the remnants of a strong polar frontal progression that developed around the Heard Island region on Monday.
Initially a great fetch of W/SW gales was generated in our far swell window, generating an inconsistent W/SW groundswell for Monday but the front weakened and raced up and under Western Australia. This is where it is now, forming a little low and aiming a great fetch of strong W/SW winds through our western swell window.
A good sized W/SW swell should fill in Sunday from this source, 1-2ft early but building to 2ft+ through the afternoon. Due to the west direction the South Coast isn't expected to see much size with sets possibly reaching 2ft+ later in the day across the Middleton stretch.
Winds are tricky but favourable for an afternoon session across both coasts with a trough moving through just after dawn, bringing a moderate-fresh W/SW change on the Mid, easing off into the afternoon and tending lighter W/NW-NW. The South Coast looks to see W/NW winds early, but tiny surf and then shifting W/SW, bit then back to the W/NW later in the day.
Come Monday, the less consistent groundswell will fill in, coming in around a similar size down South (2ft+ across Middleton) with the Mid continuing around 2ft. Winds will become less favourable for the Mid and strengthen from the N/NW (N/NE early on the Mid), best down South for the keen.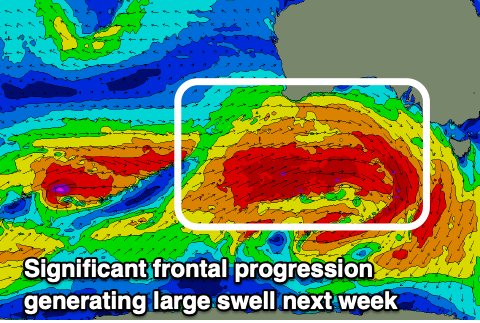 Our small, reinforcing groundswell for Tuesday is still on track but it looks a little smaller than Monday's 1-1.5ft on the Mid and 2ft max across Middleton.
Of greater importance is a much more impressive polar frontal progression firing up south-west of Western Australia during Sunday, then pushing further east towards us early in the new week.
We're looking at an initial great fetch of W/SW gales firing up, followed by a broader, stronger fetch of severe-gale W/SW winds under Western Australia Monday, then dipping south-east on approach to us mid-week.
This should generate a large W/SW groundswell, filling in Wednesday and peaking through the late afternoon. Amazingly, with the progression dipping south-east on approach, we'll see offshore N/NE winds with this large swell, with building sets to 5-6ft across Middleton and a strong 3ft on the sets across the Mid Coast. Thursday still looks solid, with a slow easing trend as N/NE winds persist. Selected spots will be best under this combination of swell and wind, with the Mid wind affected but more than workable.
We'll have one more final look at this swell on Monday, and in the meantime, have a great weekend!