Fun weekend for the South Coast, improvement for the Mid next week
South Australian Surf Forecast by Craig Brokensha (issued Friday August 20th)
Best Days: South Coast Saturday and Sunday, Mid Coast Tuesday and Wednesday, South Coast Thursday and Friday
Features of the Forecast (tl;dr)
Inconsistent W/SW swell for Sat, a bit better and building further on the Mid Sun
Moderate N/NW tending NW winds Sat (N/NE early on the Mid), strong N/NW Sun
Mod-large mid-period W/SW swell building Mon with moderate W/NW tending strong S/SW winds
Mod-large W/SW groundswell Tue with strong S/SW winds (S/SE likely early on the Mid), SE Wed as the swell eases
Moderate sized S/SW groundswell Thu with N/NE tending SE winds
Recap
Pumping waves across the South Coast yesterday with a new W/SW groundswell to 3ft across Middleton and all day offshores, tiny and wind affected on the Mid Coast.
Today the swell has dropped back in size with near flat conditions on the Mid, and a slow 2ft across Middleton.
This weekend and next week (Aug 21 - 27)
We should see a new, inconsistent W/SW groundswell lifting the size a little across both coasts tomorrow, generated by a strong but short-lived low firing up south-west of Western Australia earlier this week.
It'll be inconsistent but we should see sets reaching an inconsistent 2-3ft across the Middleton stretch, 1-1.5ft on the Mid Coast and with N/NE tending N/NW winds on the Mid, best down South with N/NW tending NW winds (W/NW further west of Victor into the afternoon).
Moving into Sunday and a slightly better, mid-period W/SW swell is due to fill in, generated by a mid-latitude frontal system that's currently weakening under Western Australia. This front will generate mid-period energy for Sunday with some slightly stronger groundswell for Monday morning from its earlier stages.
Middleton looks to hold around 2-3ft while the Mid Coast should kick to 2ft on the sets Sunday, similar in size Monday morning (though over-powered by a new swell).
Looking at the winds and straighter though stronger N/NW winds are due Sunday, favouring the South Coast and creating choppy conditions on the Mid Coast. This will be head of a weakening frontal system that now looks to move in Sunday evening.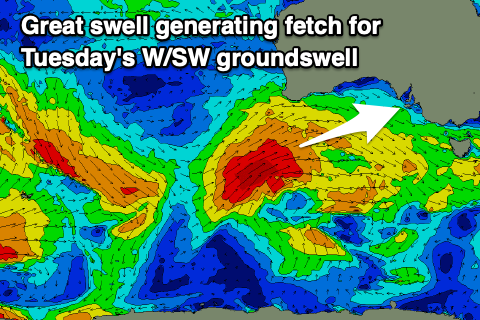 The polar low linked to this frontal system, generating our strong W/SW groundswell for later Monday and Tuesday is now looking a touch weaker and not as consolidated.
This has resulted in a slight downgrade in size but we should still see a moderate-large W/SW groundswell generated for the state, produced by a good fetch of gale to severe-gale W/SW winds projecting up and towards us.
The front moving in Monday will bring some localised, mid-period swell, building to 3ft during the day on the Mid, with Middleton building to 4ft into the afternoon. Unfortunately we're now due to see a strong low forming off the southern NSW coast in the wake of this front, and this will see poor winds develop across our state during Monday, holding Tuesday and Wednesday.
A dawn, moderate W/NW breeze Monday is due to swing strong S/SW through the day, persisting from the S/SW on Tuesday and with strength. There's a chance for early S/SE winds on the Mid, and this will be with the peak in W/SW groundswell.
The Mid Coast should come in at a great 3ft, with larger 4-5ft waves across Middleton, but with that poor wind.
As the swell eases Wednesday, winds look to swing more SE, favouring the Mid Coast, with cleaner conditions due to develop down South later in the week. This looks to be with a new, moderate sized S/SW groundswell, generated by a good polar front firing up under the country, but we'll have a closer look at this Monday. Have a great weekend!