Plenty more swell and with favourable winds
South Australian Surf Forecast by Craig Brokensha (issued Friday August 13th)
Best Days: Today both coasts, Saturday morning Mid Coast, South Coast all days (Monday and Tuesday in the mornings)
Features of the Forecast (tl;dr)
Moderate sized SW groundswell for Sat AM, easing later and further Sun
Light-mod N/NW tending variable winds down South Sat, with NE tending variable winds on the Mid, moderate N/NW tending fresher W/NW winds on Sun (N/NE early Mid)
Large SW groundswell filling in Mon with W/NW tending fresh SW winds, easing Tue with similar, weaker winds
Easing S/SW swell Wed with N/NW winds
Recap
Strong lines of swell to 3ft all day on the Mid Coast and with improving conditions as the day progressed. The morning was bumpy and average but winds slowly eased as forecast, tending variable for the late with sets holding 3ft. Today the surf is a touch smaller and back to 2ft+ but with workable winds again.
The South Coast saw a good kick in size though from the west so protected spots which were cleanest, weren't the biggest. Today the swell is more SW and still 3-4ft off the Point at Middleton with favourable winds.
This weekend and next week (Aug 14 - 20)
Following the last couple days of moderate-large W/SW swell, we'll see a new SW groundswell filling in tomorrow morning, generated by a great frontal system drifting from the south-east Indian Ocean the last couple of days.
Severe-gale W/NW winds through our south-western swell window have now given way to a weaker, trailing fetch of gale-force W/SW winds through our southern swell window, south-west of Tasmania today.
The severe-gale fetch will generate a good SW groundswell for tomorrow morning, producing good 3-5ft waves from Middleton to Goolwa, with the Mid Coast dropping back to 1-2ft.
The swell is due to ease a touch into the afternoon, but the trailing fetch is still due to produce a reinforcing, slightly smaller S/SW swell for the late afternoon, easing Sunday.
Middleton looks to ease back from 3ft+ on Sunday morning with 1-1.5ft waves on the Mid Coast.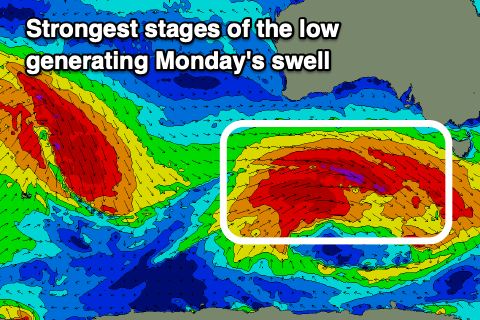 Looking at the local winds and local offshore breezes are due tomorrow morning, NE on the Mid and N/NW down South, tending variable into the afternoon on both coasts. Sunday will see moderate N/NW tending fresher W/NW winds down South, with the Mid seeing early N/NE winds before shifting onshore.
We then look to the strong polar low that's due to fire up under the country on the weekend, generating a large, long-period SW groundswell for Monday.
This low will develop south of Western Australia tomorrow morning, with a fetch of severe-gale W/SW winds projected east before broadening and weakening back to gale-force on Sunday.
These gales will be slow moving and continue to project towards us on Monday, with a mix of long-period and mid-period SW swell due to build through the day, peaking into the afternoon and easing from the S/SW Tuesday.
Middleton should build to 5-6ft with the Mid Coast persisting at 1-2ft and winds will favour protected spots down South with a W/NW breeze, shifting fresh SW through the day with similar lighter winds through Tuesday. The Mid looks bumpy and deteriorating with moderate onshore W/SW winds Mnday, freshening and then variable tending SW on Tuesday.
Wednesday looks great down South with N/NW winds holding all day as the swell eases, smaller into the end of the week.
Longer term we're looking at some sizey, windy, mid-period swell through next weekend, but more on this Monday.