Good run of swell and winds for the South Coast from Friday
South Australian Surf Forecast by Craig Brokensha (issued Wednesday August 4th)
Best Days: Friday through Monday down South, keen beginners on the Mid Saturday
Features of the Forecast (tl;dr)
Building SW groundswell late tomorrow with W/NW tending W/SW winds, peaking Fri AM with W/NW tending W/SW-SW winds
Stronger SW groundswell Sat with W/NW tending W/SW-SW winds (variable on the Mid in the AM and late)
Easing SW groundswell Sun and Mon with N winds, strengthening Mon
Mod-large W/SW swells later next week
Recap
Windy, fairly average conditions across both coasts yesterday with 2-3ft waves on the Mid Coast and 3ft surf off Middleton, building further into the afternoon but with a further deterioration in conditions.
Today the mid-latitude low linked to yesterday's winds and swell has cleared to the east with easing, bumpy surf from 2ft on the Mid and bumpy, 3ft waves down South, best in protected spots.
This week and next (Aug 5 - 13)
We'll see the surf from yesterday and this morning continuing to ease back into tomorrow morning ahead of a new pulse of SW groundswell into the late afternoon but more so Friday.
Winds tomorrow will be out of the W/NW, favouring protected spots, shifting W/SW into the afternoon as the new swell starts to build.
The source of this swell and a stronger increase Saturday are back to back frontal systems tracking in from the south-east Indian Ocean, under the country along the polar shelf.
This first swell was generated by W/NW gales tracking south-east and then east through our swell window, south-west and south of Western Australia while forming into a low pressure system.
This low is now weakening south-west of Tasmania, with the swell due to kick later tomorrow to 3ft across the Middleton stretch and 1-1.5ft on the Mid Coast. This swell should peak Friday morning to 3ft to possibly 4ft across Middleton, then easing slightly through the day. Winds on Friday will be W/NW through the morning again, with a shift to the W/SW into the afternoon again, possibly SW at times down South.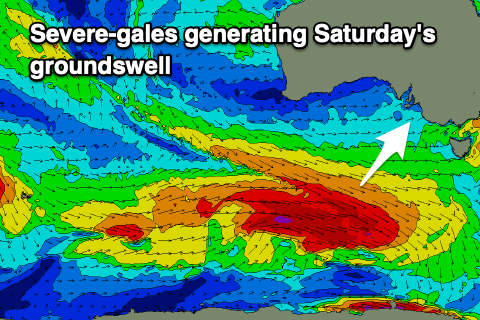 Later in the day Friday some new mid-period swell is due to build ahead of a stronger SW groundswell Saturday which will be produced by a similar frontal progression and low formation to the storm discussed above, but with more strength.
We'll see a broader and stronger fetch of gale to severe-gale W/NW winds following a similar track, moving on top an active sea state, then consolidating slightly more under the country as a stronger polar low forms. The fetch will remain W-W/NW, aimed a touch away from us, but we'll still see a moderate-large SW groundswell generated, with it due to arrive overnight Friday, peaking Saturday morning.
Middleton should see stronger 4-5ft waves with the Mid coming in around 1-1.5ft along with W/NW tending light W/SW winds. The Mid looks to see variable winds, tending light onshore, creating OK waves for beginners.
The easing trend will be slowed through Sunday and Monday owing to a broad fetch of trailing W/SW gales drawing out behind the polar low.
Middleton should still be 4ft Sunday morning but the Mid back to 1ft, with great N/NE tending variable N/NW winds.
Monday will become smaller with easing 3ft sets across Middleton, tiny on the Mid and with strengthening N/NE tending N/NW winds as a strong mid-latitude frontal progression approaches from the west. This will bring N/NW winds Tuesday as the swell bottoms out.
This frontal progression looks to bring a moderate-large W/SW groundswell for later week along with strong winds out of the western quadrant, but we'll have a closer look at this Friday.