Good run for the South Coast with a solid swell for the weekend
South Australian Surf Forecast by Craig Brokensha (issued Friday July 2nd)
Best Days: Protected spots South Coast tomorrow and Sunday, Mid Coast for the keen Sunday, South Coast Monday, South Coast Wednesday
Features of the Forecast (tl;dr)
Strong S/SW groundswell building late today, peaking tomorrow with fresh W/SW-SW winds (W/NW during the AM down South)
Easing mid-period S swell Sun with W/NW tending W/SW-SW winds, variable late on the Mid
Clean fading S swell Mon down South
Good, mid-period S'ly swell Wed with fresh N tending N/NW winds
Weak W'ly swell for the Mid Thu/Fri with fresh N tending NW winds
Recap
A good pulse of building W/SW swell yesterday with clean 2ft waves on the Mid in the morning, reaching 2-3ft through the day but becoming wind affected with the strengthening northerly breeze.
The South Coast was a clean, fun 1-2ft across Middleton in the morning, building a bit further into the afternoon as winds shifted NW. Today we've got a shift in winds to the west and choppy 2-3ft surf on the Mid, bumpy 2-3ft across Middleton though workable in protected spots.
A strong low that's formed south of us should bring an afternoon increase in S/SW groundswell down South, so keep an eye out for that as winds shift more W/SW-SW.
This week and next (Jul 1 - 9)
The current W/SW swell energy will ease in size and period over the coming days, but the low stalling to our south will continue to aim strong SW winds through the Mid's swell window today and tomorrow, before breaking down Sunday.
This will keep 2ft waves hitting the Mid tomorrow, easing back from the 2ft range on the sets Sunday but with persistent onshore winds. Winds will be worst tomorrow and fresh from the SW, light to moderate Sunday morning and W/SW. There's an outside chance of variable winds at times in the morning, but more likely on dark.
Looking at the South Coast and the low is currently projecting a great fetch of severe-gale S/SW winds towards us, with the low and fetch weakening slowly through today.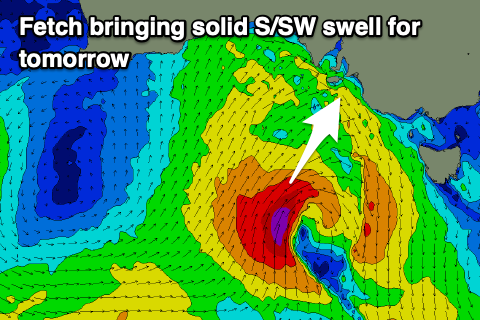 This will produce a moderate sized, S/SW groundswell for tomorrow, coming in at 5ft or so across Middleton and similar around Chiton with 4-5ft sets.
Winds should be more favourable and fresh from the W/NW through the morning down South, shifting W/SW-SW into the afternoon. Sunday will play out similar but with less strength, moderate W/NW tending W/SW-SW into the afternoon.
There should still be plenty of size on offer down South still Sunday morning as a small burst of strong S'ly winds are projected towards us from the weakening low tomorrow, keeping the surf around 4ft.
A more noticeable easing trend is likely Monday with easing sets from 3ft+ or so. Conditions will improve further as high moves in from the west, swinging winds around to the N/NW, holding all day and likely variable into the afternoon. Expect even smaller surf Tuesday with favourable N/NE winds.
Later in the day we may see some new mid-period S/SW but Wednesday is the best chance to get wet.
The source of this swell will be a persistent fetch of strong W/SW winds on the polar shelf, south-west of Tasmania from Sunday, right on the edge of our swell window.
Size wise, a fun 3ft wave should be seen across Middleton and fresher N tending N/NW winds. Make the most of this as the swell will fade into the end of the week as N/NE winds persist.
Over across Western Australia we've got a stalling mid-latitude low that doesn't look at all favourable for swell generation until it slides slightly south and east mid-week.
A slow moving and expanding fetch of strong W/SW winds will push in from the west, bringing an increasing W'ly swell that looks to peak through Thursday afternoon/Friday morning. Winds at this stage look N'ly Thursday and NW on Friday, while the South Coast won't see much in the way of size. We'll have a closer look at this on Monday though, have a great weekend!