Easing surf, with funky winds and mixed swells to end the week
South Australian Surf Forecast by Craig Brokensha (issued Monday June 21st)
Best Days: South Coast swell magnets tomorrow, Friday morning protected spots down South, Saturday down South
Features of the Forecast (tl;dr)
Easing SW groundswell with fresh NE winds tomorrrow, N tending N/NW on Wed
Tiny pulse of W swell for the Mid Thu PM with fresh N/NE tending SW winds, easing Fri with fresh SW tending W/SW winds
Inconsistent S/SW groundswell Fri with early W/NW winds down South, easing Sat with strengthening NW winds
Reinforcing S/SW groundswell Sun with tricky winds, likely W tending S
Recap
Lumpy, workable 1-2ft waves on the Mid Coast Saturday morning, tiny yesterday morning and cleaner before kicking back to 1-1.5ft through the afternoon and holding today with a couple of inconsistent, reinforcing W/SW groundswells.
The South Coast remained poor and choppy on Saturday, cleaner yesterday morning with a bit less size to 2-3ft, holding a similar range today with great conditions.
This week and weekend (Jun 22 - 27)
As touched on the last couple of updates, after yesterday afternoon's and this morning's reinforcing SW groundswells, we'll see the surf easing off steadily in size over the coming days, bottoming out Wednesday and Thursday.
Winds will be favourable for selected spots on the South Coast though as a slow moving mid-latitude low edges its way in from the west, bring gusty NE winds tomorrow, N tending N/NW on Wednesday.
Size wise, Middleton should ease from 2ft, better at exposed breaks with tiny 1ft+ sets on the Mid Coast.
Wednesday will be smaller again, tiny across Middleton and only surfable on the swell magnets for the desperate.
As we move into Thursday winds will swing from the N/NE to SW as the mid-latitude low pushes in and across us but in a much weaker form.
There's no real sizey swell expected from this low as it aims most of its strongest winds from south to north, into Western Australia.
There is a brief period of W'ly winds aimed towards the Mid tomorrow afternoon, so this might generate a pulse to 1-1.5ft late in the day but with that onshore breeze.
Unfortunately we'll see SW tending W/SW winds into Friday as the pulse of W'ly swell eases, but a new, inconsistent S/SW groundswell should be seen on the South Coast.
This will be generated by a slim fetch of severe-gale W'ly winds moving along the polar shelf over the coming days. The slim nature of the fetch isn't ideal and as a result, it'll limit the size expected across our region.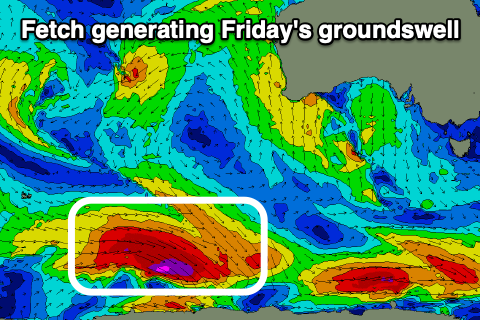 Middleton should offer inconsistent 3ft sets and Victor may see an early W/NW breeze, cleaner as the swell eases Saturday under strengthening NW winds.
A couple of reinforcing S/SW swells are due off polar fetches late Saturday and more so Sunday, with a late forming polar low (in our swell window) on Thursday generating the first. This should maintain 3ft sets across Middleton Sunday though winds look funky as a trough moves through, likely cleaner Monday as it eases.
Longer term the storm track will be focussed up towards Western Australia, bringing W/SW swells into the end of the week/next weekend with what looks to be favourable winds as the storms stay at arms length from us. More on this in the coming updates.